For years the popular Tacoma has held a significant share of the truck market. In fact, when it comes to specifically midsize trucks, it's a runaway champion. So when Toyota announced they'd be making the first real changes/upgrades in about ten years, some people worried that they might not recognize the new kid.
Fear not. It's still a Tacoma, and will continue to sell like crazy.
Not that there aren't competitors circling in the water. Chevy has become very serious about the Colorado (the truck, not the state), and both GMC and Nissan feel like they have contenders, too.
But Toyota knows it has a solid entry in the market, and they're not about to screw it up.
Before we get to the changes, let's set the record straight. The Tacoma comes in five different trim styles, ranging from the base SR up to the Limited. You can opt for the 4-cylinder (159 horsepower), but why would you? The smooth V6 has been refined – and quieted down from past models – and delivers almost 280 horses. Throw in the towing package and the Tacoma will handle almost anything you throw at it – at least up to 6800 pounds.
Let's face it, the majority of trucks purchased today are never intended to go off-road. If you choose to rough it, however, the Tacoma laughs in the face of mud. With its good-sized clearance and beefed-up rear axle, it's one of the few midsize trucks that shines off the pavement.
(Disclaimer: This city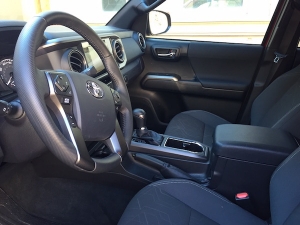 boy never tried it off-road, but more than one enthusiast regaled me with stories. It's legit. Oh, and here's some fun for you: Toyota now includes a GoPro mount, in case you want to go all epic or whatever.)
One of the changes for 2016 is the elimination of the regular cab style. Apparently not enough people thought it was worthwhile, so today you can choose between the Access Cab (which uses small, rear-hinged doors) and the Double Cab. Go the double route and you'll have plenty of room for even tall adults in the back. I drove the Double Cab for the week, and found it more than adequate.
Inside, you'll see more evidence of the redesign. Materials have ticked upward a tad, although they're still geared mostly for durability. (The lone exception here is the Limited, which feels compelled to spoil you with at least a little bit of luxury. Is simulated leather necessary in an off-road vehicle? Hmm.)
The controls are – thankfully! – very easy and intuitive. Toyota hasn't yet felt the need to make their pickups' control panels require an MIT degree. I appreciated the simplicity, the layout, and even the touchscreen, a 7-inch job that was a snap to operate. And, thank the gods, Toyota still believes in old-fashioned, traditional knobs for climate control.
Throw in an accessible USB port (the "accessible" part is not as common as you'd think), plenty of storage, and SEVEN cupholders. Seven. Dang, people must work up a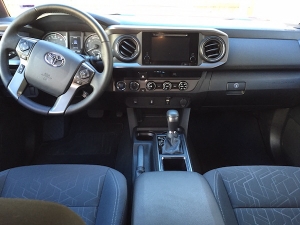 mighty big thirst when they're off-roading. Or going to Kohls and Target.
As for the drive, it was also what you'd expect (or at least SHOULD expect) from a midsize truck. The Tacoma won't fly off the starting line, and, in fact, mostly trails its competitors in that area. But if you're buying a pickup to drag race, you don't understand trucks.
I found the steering to be smooth, the bumpiness almost nonexistent (another improvement from older Tacoma models), and an overall ride that was comfortable and surprisingly quiet – again, another nod to the redesign.
The TRD Sport version I drove was MSRP listed for just under $34k; with one minor option (the tow package) it tallied just over $35k. Mileage won't make you gasp, so just hope that gas prices stay reasonable; my Sport version clocks in at about 20mpg combined.
The Toyota Tacoma has dominated the midsize truck market for years, and this new '16 entry will likely fend off a strong push from competitors.
Reviewed by Dom Testa
Vehicle provided by the manufacturer