It wasn't until I found the Dodge Journey parked in my driveway that I got a really good look at one. And there's a reason for that: I just never see them on the road. Or, at least, I don't seem to notice them.
Think about it – everywhere you turn you spot either a RAV4, an Outback, or any one of the Lexus SUVs. There are tons of Honda Pilots drifting around, and the usual collection of Jeeps and Fords.
But I wasn't familiar with the Journey, which led me to wonder why. Why don't I see a handful in every parking lot? Is there something wrong with the crossover SUV? Is it so new that people just haven't yet welcomed it with Open Arms? (Ha! A Journey joke! Get it? Ok, let's move on.)
I'll answer the last question first: No. The Journey originally hit the US market in 2008, so it's not far from its tenth birthday. There's also no glaring flaw keeping it from gaining as many fans as the above-mentioned.
Sometimes, though, it's not anything necessarily wrong with a car; it simply may not grab us. And that's likely the issue with the Dodge.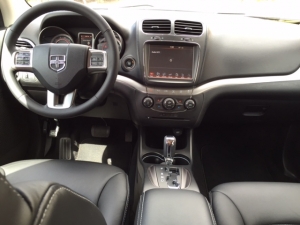 You get your choice of five trim levels, including the version I tooled around in for a week, the Crossroad Plus AWD. Most of these choices come off the line with a 4-cylinder power plant cranking out a little over 170 horsepower. Not exactly tough-guy material. (My test model had more oomph with its V6.)
On any of the trim lines you'll find front-wheel drive standard, although AWD is an option.
Outwardly . . . okay, just how different can you make a crossover/SUV look? Let's just say the Journey does nothing to embarrass itself (I'm talking to you, FJ Cruiser), while it also doesn't gush beauty. It's, um, practical.
Inside I had no complaints. Although you won't be fooled into thinking "luxury vehicle," the materials and workmanship of the Journey are well done. I liked the large touchscreen (its interface was one of the best I've experienced) and the seats were comfy. Even the second row had decent leg room (and its own climate control).
Yes, you can grab a third row, but, like almost all thirds, it's best for hauling wee folk.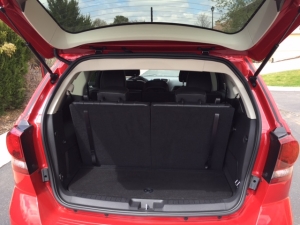 Give this crossover SUV high marks for storage, both up front and in the way-back (with the seats folded). I found plenty of cubby spaces to store my stuff, which families will applaud.
The drive itself was not the most inspiring, but also not depressing. (Are you beginning to see why this vehicle sorta blends in?) The V6 on my Crossroad Plus was respectable enough, but that leads me to wonder why anyone (except out of price concerns) would opt for the weaker 4-cylinder.
Mileage on the AWD model clocks in at about 19 combined. The smaller engine will bump that to 21, which (again) doesn't set the world on fire, and doesn't compare too favorably with the competition.
One good thing that does come into play, though, is the sticker. It's so easy to find yourself in the 40s, 50s, or higher in this category, yet the base price for the Journey can be found in the 20s. My test car, with a few option upgrades, was a little over $34k. That's a number many families will choose over flash and sizzle any day.
So, after a week, I realized the Dodge Journey hasn't done anything to deserve sitting home on prom night. It just hasn't mastered the art of hair-flipping. And is that so bad?
Reviewed by Dom Testa
Vehicle provided by manufacturer