Yes, I know, we're supposed to judge cars by their performance, reliability, gas mileage, safety, blah blah blah. But I can't help it: I think Jaguars are some of the most eye-catching, elegant looking cars on the road. If we slobbered over a person's looks, we'd be labeled "shallow."
So I'm a shallow car reviewer.
The classic British automaker (originally born as the maker of motorcycle sidecars, of all things) has had its ups and downs over the past half-century. Purchased by Ford, then by Indian automaker Tata – stop snickering right now – Jaguar battled questions about leadership and production quality, but has emerged nicely, thank you.
Today it simply makes badass cars. For a week I roamed the Denver area in the 2016 Jaguar XF, and continued my own personal love affair with the brand.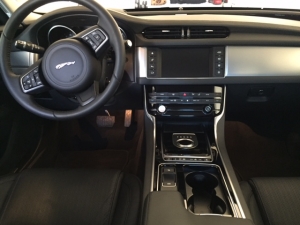 The XF was already a beauty, but for '16 the car is redesigned. Part of that design involves a commitment to aluminum, which makes the midsize luxury car noticeably lighter, and perhaps a bit more nimble.
You get your choice of four trim levels, each with a modest but fulfilling list of standard gear. I drove the Prestige rear-wheel-drive model (all-wheel-drive is available), with its 19-inch wheels, 8-speed automatic transmission, and power-assisted steering. I rarely gush over a car's steering – c'mon, we expect a good ride, right? – but the XF's steering is ultra-smooth.
There are several packages of options; my ride featured the Comfort & Convenience Pack (who doesn't like both of those?) and the Vision Pack, which essentially upgrades all of the various sightline/headlight/traffic detection toys.
Under the hood the Jaguar offers up (for now) one engine choice for each of the trim levels, but it's a dandy. More than 300 horses out of its supercharged V6, although you can bump that to 380 in the S model. Obviously there was no problem getting some giddyup out of the car.
Behind the wheel, you'll feel pretty damned pampered. Luxurious seats, a refined cabin, and plenty of bells and whistles make for a five-star experience. Your passengers will ooh and ahh at the rotary gear selector that rises like Dr. Phibes when you start the engine. Plus, those passengers won't be crammed inside; Jaguar actually increased the interior space.
The glossy veneers add a sparkling touch, along with the textured aluminum throughout. If you can, opt for the panoramic sunroof. There's just something about that extra natura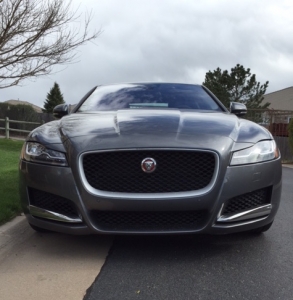 l light that makes you wanna stay in the car. Hideaway air vents don't necessarily add anything substantial, but they're cool.
You'll like Jaguar's touchscreen infotainment system. The 10-inch screen, along with InControl Touch Pro, makes for a satisfying media/nav/control experience.
And, to top things off, this car that oozes with luxury also gives you the bonus of space/storage. The trunk is quite large, and the front cabin has a good share of cubby space, too.
All of this and good gas mileage, too. My test car delivered about 30mpg on the highway, 24 combined. With the options mentioned above, the sticker rolled in at a little over $66k.
If you're doing some comparison shopping, you'll likely check out the Audi A6, the BMW 5-series, and perhaps Lexus, too. But the Jaguar XF is a fun choice that wins the beauty contest against its competition. Lucky for you it's more than just a pretty face.
Reviewed by Dom Testa
Car provided by manufacturer