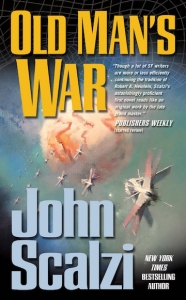 Old Man's War
By John Scalzi
I met John Scalzi at a convention for the American Library Association. I was newly-signed to Tor, the biggest/best science fiction publisher in the world, while John was already a star in the genre. Although the meeting was brief – and several years ago – I was struck by his wit and wisdom. And that's not a kiss-up; trust me, there are many published authors who have neither.
Of course, I'd heard of his highly-acclaimed series of books (beginning with this particular title, his first). At the time, I hadn't read it. When I did dive in, however . . . wow. I kicked myself for waiting so long.
The premise is fascinating: Older folks on Earth are given the option to join the Colonial Defense Force; that's right, they're joining the army. At age 75. Sounds crazy, right?
Ah, but you don't really join as an "old man." Scalzi describes the process of transferring the mind (and its accumulated wisdom) into a brand new body, one that's crafted from a person's own genetic blueprint. These bodies, though, are practically superhuman, including an interface with an internal computer that will blow you away.
John Perry is the protagonist of the story. His wife has passed away, there's nothing left for Perry on Earth, so he takes the CDF challenge, knowing that recruits are not allowed to ever return. And the hostiles out in space are determined to make sure you don't return, period.
Old Man's War combines damned cool science ideas with intriguing sociological issues and themes. If you're a fan of Ender's Game or Heinlein's Starship Troopers, you'll love this book. And, best of all, it's only the first in a series, so you'll have plenty more to enjoy.
Pick up Old Man's War at The Tattered Cover Book Store. If you mention Dom's Book Club, you'll get a 20% break on the price, and who doesn't like that? While you're at it, check out John Scalzi's blog; it's been around a long, long time, way before blogs were even considered cool. The guy knows his stuff, and he's fun to read.
.