Several years ago I was told one of the secrets of the luxury car industry, a somewhat-sordid tale of bait-n-switch. A very respected Car Guy (that's a title, right?) whispered that many of the big-shot brands do indeed offer what's known as an "entry level" version. But, he said knowingly, you're not really getting the real deal. You're getting a serious knock-off, whose only intent is to get you used to driving that particular brand, in hopes that someday you'll move up the food chain.
The reason I tell you this is because I just drove an entry-level model from one of the world's premier car makers, and it shatters Car Guy's theory. Audi is rightly proud of the A3, which falls into the "compact executive car" category. Other than some cramped space issues in the back seat and the trunk, you're driving a well-appointed, well-nurtured beginners segment in the luxury field.
You get your choice of a four-door sedan, or the two-door convertible/cabriolet. (I drove the sedan for a week.) Standard features are plentiful, including (among a host of other things) automatic xenon lights, a rearview camera (which, based on its popularity, should NEVER be anything bu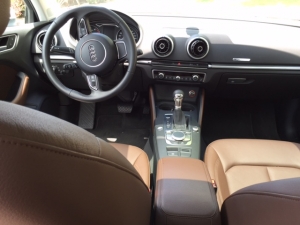 t standard on any car, for the rest of eternity), and heated mirrors.
A cursory glance at the exterior of the A3 instantly identifies it as an Audi, with no sense of its status as a little brother. It's when you slide behind the wheel, however, that you smile and nod.
As mentioned above, the rear seats aren't arranged to accommodate large folks, but from the talks I had with A3 drivers, you gotta know that going in. You aren't buying this car to haul a large family around; you're getting it to reward yourself for your great start up the ladder. While some competitors might give your passengers more leg room back there, they fall short in other areas.
In the front seat, well, that's where things shine. Materials are first rate, the layout is intuitive and smart, and you feel . . . well, luxurious. Fire up the engine and the Audi MMI (Multi Media Interface) gracefully rises from its slumber, ready to connect you with the world through its sharp screen. Its controlled by a rotary device in the center console; these used to confound people who had grown up with knobs and buttons, but they're becoming pretty ubiquitous these days. Audi's works w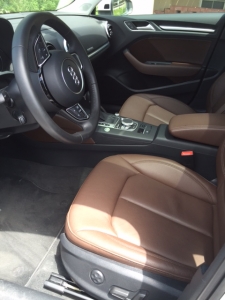 ell, and is quickly absorbed.
As for the actual ride of the car, this is where the A3's label of "entry level car" makes you feel like you're pulling one over on the company. While other entry-level brands skimp on the ride, Audi makes sure you're getting top-notch, Audi-styled driving. There's power to spare, and the nimble, sports-like feel of the steering might get you into trouble.
Stats-wise, the A3 clocks in at about 27 mpg combined, which puts it above average for the segment. The sticker on my test model sports a base price of about $34k; after options (the Technology package and the Premium Plus model) it topped out at $40,500.
There are several competing manufacturers, including Audi's German neighbors Mercedes and BMW, but the A3 does more than hold its own. For those considering a step up to a luxury class, it's well worth a drive.