In the more than 15 years I've been reviewing cars, I've never spent so much time in the back seat as I did with this BMW.
Hey, get your mind out of the gutter! In fact, if you immediately channeled naughty thoughts, you should know this particular back seat – although plenty large enough – would function better as a spa than a romantic rendezvous spot. But more on that later.
With the luxury car market on a pretty substantial run these days, the big guys aren't being shy about ushering out fresh-faced versions of their prized horses. In the case of BMW, they've taken the already-classic 7-series and (believe it or not) improved its marriage of power, opulence, and indulgence.
Let's get the power and the dynamics out of the way, because you'll wanna spend more time on the indulgence stuff. Trust me.
The 2016 edition of BMW's flagship sedan is bigger, but at the same it's also lighter and speedier. The 4.4-liter V8 explodes with more than 440 horsepower; at times, when I got a bit rambunctious with the right foot, I found myself ready for takeoff. How about a 4600-pound beast that does 0-60 in less than four and a half seconds with its all-wheel-drive?
And although you might think the 750 needs some Jenny Craig action, bear in mind it's actually a couple hundred pounds lighter than previous models. There's still plenty of steel holding it together, but some portions have been replaced with lighter materials, such as carbon fiber and aluminum.
I almost don't want to insult your intelligence by describing the ride itself; I mean, c'mon, even if you've never driven a BMW in your life, I think you grasp that the 750 wouldn't command a six-figure price tag if it wasn't a jaw-dropping experience. Fair enough?
Designers went above and beyond with the tech element, too. Between standard features and an eye-popping list of options, you'll be treated to – deep breath here – a list that includes: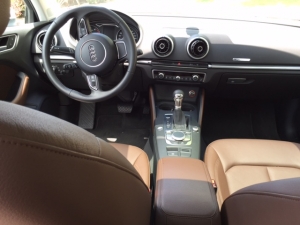 Active Driving Assistance
Surround/3D View
Parking Assistant
Power Side Window Shades
Front AND Rear Ventilated Seats
Bowers & Wilkins Premium Sound
Wireless Charging
Gesture Control (Think I'm kidding? Wave your hand to control things like music volume and answering the phone.)
And ask about BMW's Smart Key. It's a fob that can do a variety of things, like park your car for you, and let you know remotely how much gas is left in the tank and its potential mileage range remaining. Oh, and from your house you can set the internal temperature so the car is either cool in the summer or warm in the winter BEFORE you climb in.
(Some have proclaimed this 7-series as the automotive world's best tech star, and I'm hard-pressed to argue.)
Okay, now let's wander into that back seat, the one that led you astray earlier. BMW offers not just a couple of seats for passenger butts; no no, trust your humble reviewer, this is one car where you'd fight to NOT ride shotgun and instead hang out in the balcony. In fact, BMW refers to it as Executive Lounge Seating. You're about to find out why.
First, you should know that these are two distinct passenger seats, instead of a back row. You know how most cars have a center console in the front? Well, this BMW has one in the back, too. It holds a detachable tablet that controls all of the many screens – yes, multiple screens – in the rear.
Need a massage back there? Sure, there are 18 different settings for your pampering treatment. The seat on the right has a foot rest, while both seats not only offer the ventilated heating/cooling, but also a reclining feature. Yeah, in the back.
Then there's the Ambient Air feature. Things feeling a tad stuffy during your ride? No problem; just dial up any one of eight different fragrances to circulate, ranging from fresh water fragrances to greenhouse scents. While you're getting high on life, oxygen from outside the car is brought in and purified and ionized.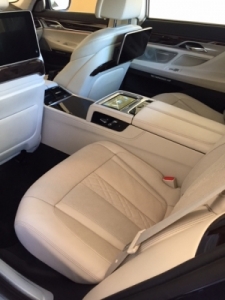 BMW's Touch Command puts you in charge of the dual 10-inch screens attached to the back sides of the front seats. Passengers can dial up Blu-Ray movies, games, MP3 players, and probably a few dozen other things I couldn't even think of. Oh, and there's a Vitality Program option that helps you get some exercise while riding in the back.
It's easily the most remarkable experience I've ever had in a back seat, and that includes high school.
Total it all up and the 750i xDrive Sedan will start at about $97k. The test car I drove had options that brought the total sticker to just under $130k. But listen, this car is not just for people who have arrived; it's for people who wouldn't mind being driven. Hell, there may be no better road-trip car in history.
It was quite an experience. And while Mercedes will always happily do battle with their German neighbor in this segment, right now it seems that BMW is sitting on top of the world.
Reviewed by Dom Testa
Car provided by manufacturer