On the last day I drove the QX50, I found myself jotting down notes while sitting at red lights. After letting my thoughts marinate for a few days, I pulled out my notebook and glanced at the last sentence (well, sentence fragment, actually) I'd penned. It contained all of two words:
Nothing special.
That sounds like a harsh critique, but it's really more of a dispassionate response to my week behind the wheel. I had no major complaints (other than the daily flood warning – more on that later), but nothing to rave about, either. And in today's market for SUVs and/or crossover vehicles, that can be good or bad.
Let's start outside. The QX made its debut back in 2008 (as the EX35) and hasn't seen many changes since then. For some automotive geeks, that's almost sinful. Once a car approaches its tenth anniversary, it better get flashy updates, they say. But Infiniti has been content to drift along with this crossover, perhaps not wanting to rock the boat.
The trouble is that its competitors aren't sitting still. Audi, Acura, and BMW seem pretty intent on impressing buyers. As a former Infiniti owner, I kinda got the impression I was supposed to be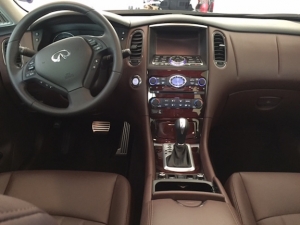 impressed simply by the nameplate. At least that's the attitude I felt at the dealer.
One thing Infiniti has changed is the overall footprint of the QX50. Stretched out a little bit, they addressed one big complaint that previous QX owners squawked about: the lack of decent legroom in the rear. Now there's an additional four inches of room back there, which will please some of the naysayers. Even given that expansion, the QX still doesn't rate high for storage room, unless you fold the rear seats – and even that won't blow you away.
And no power liftgate? Why not?
The car comes with a standard V6 that pumps out 325 horses; I can honestly say I never felt cheated on power. Plus, the handling and overall driving experience with the seven-speed automatic transmission was quite good.
Behind the wheel you'll be treated to great quality materials, including leather-appointed seats that are standard, as are a bevy of other upscale features. If you want options, you'll have to deal with the various packages; manufacturers these days are obstinate about packages versus stand-alone options.
The 7-inch monitor/infotainment screen seems a little dated, and should probably be addressed by Infiniti sooner rather than later. Hell, in 2008 I'm sure we were duly impressed, but in '08 we were impressed with DVDs and iPods.
That info system had a funny hitch the entire week I drove the car. Every single time I started it up, I'd get a woman's voice warning me about a flash flood "twenty miles away." It didn't matter where I was in the entire Denver metro area, every day some mysterious flash flood was twenty miles away. After a week of that, I started wondering if an ark would soon be needed. (I never did see the flood, or figure out how to make this person stop warning me about it.)
Gas mileage is on the low side, with an estimated 20 mpg combined. You'll find rear-wheel-drive standard, but fortunately there is an all-wheel-drive version available as an option.
As for the ultimate feature that makes the QX competitive, look no further than the sticker. While BMW and others make you pay handsomely for their SUVs/crossovers, you can pick up the Infiniti for a base of about $34k. The test model I drove included options that punched up the final number to $43k. Still, compared to others, this could make a huge difference for shoppers.
Infiniti has made terrific cars for many years, and we seem to automatically associate the nameplate with quality. The QX50 doesn't necessarily disappoint in that arena, but it could use a fresh face in the next year or two.