A friend of mine is a bartender at an upscale Italian restaurant, and he also happens to be a serious off-road fanatic. Whenever I stop by and grab some apps and a glass of Pinot, we'll invariably end up talking about cars. He's the gear-head, while I'm more likely to talk styling and comfort.
I think the Range Rover could be right up his alley. Or up his rutted trail road, at least.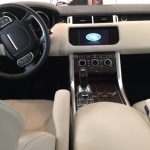 For 2016 you'll be able to step up to a turbodiesel version of the Range Rover, something that will bring some joy to mud rats. There are six trim levels to choose from, and four engine choices, but all of them come with full-time all-wheel-drive. The diesel HSE model I drove will bring you the best full efficiency. I averaged a little over 27 mpg for the week. Plus, I just personally like the diesel growl.
The two base models come with a 3-liter gas V6; my diesel HSE was also a V6; the premium models, Supercharged and Autobiography (Really? Who named these?) roll out with 5-liter V8s that pump out more than 500 horsepower.
Range Rover has made it a priority to bring their newest stable into the good graces of the younger generation, so if you've driven them in the past you may be in for some surprises. Overall workmanship in the cockpit is excellent. The combo of wood and metal is appealing, and other subtle touches make for a comfy ride.
There are a few knocks on that interior, however. The armrests that flip up and down – just like you'll find in your basic airplane cabin – must've seemed like a good idea in the drafting room. In practice, though, they seem awkward. I spent most of the week with them neatly stowed up and out of the way.
The driver-side window controls seem equally awkward; they're too high up, certainly not in an intuitive location. (First-world problem, I know.)
If you're excited about the potential for third-row seating, contain yourself. Range Rover makes it no secret that the way-back row is for children only, and that's confirmed. Maybe you could stow some backpacks in that space.
The 8-inch touchscreen interface doesn't seem advanced enough for an $84,000 car (with options, naturally). If anything, it seems a touch dated. My guess is Range Rover will turn their sights there very soon.
I did like all of the connectivity in the cockpit, and visibility was first-rate. Plus, it's just a comfortable ride. (See first paragraph.) Storage in the back is so-so for an SUV, but you'll have a blast just opening the rear door with your foot. No, not actually touching the vehicle; just wave your foot at the sensor below the back bumper and it will activate the hands-free cargo door. (We live in the future, folks.)
As for the drive itself, you might be surprised at how smooth it rides for such a heavy beast. No, the diesel V6 I drove never leapt off the starting line, but word has it that the V8 option will please you plenty in that respect.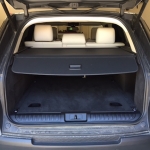 I found that once I got up to speed, the Range Rover handled extremely well and had plenty of punch for merging and passing. Plus, once you get up to highway speed, you won't hear a peep from the diesel plant.
There was no off-roading experience in my week of driving – much to the chagrin of my bartender buddy – so, sadly, I'll have to leave that page blank for now.
Range Rover competes well in the luxury mid-size SUV segment. Compare it to the Porsche Cayenne and BMW's X-series.