Years ago I composed a novel for young adults that was labeled "post-apocalypic." The setting – and overall feel – of that novel is a far cry from the nightmarish vision that Cormac McCarthy sets out in The Road.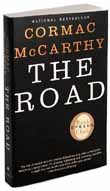 We're never told exactly what event brought on what resembles a nuclear winter. Was it an actual atomic war? What about a meteor strike? We don't know. What we see, however, are two survivors, making their way on foot across the country.
This is the story of a man (we never know his name, either) and his son. Their struggle comes down to three primary goals: Find food, stay warm, and avoid the roving bands of cannibals.
The man's wife committed suicide, unable to deal with the horrific changes. After just a few dozen pages you can pretty much see why. I found myself imagining what I would do in the shoes of these skeletal refugees. At one point, when they find a cache of food and supplies, I practically screamed at the pages "Don't ever leave! Hunker down!"
McCarthy paints more than just a vivid scene; he describes a love that is rarely seen in literature. We virtually feel the man's protective aura around his boy, and we root for them to make it somewhere safe, somewhere warm, somewhere they won't be hunted.
This is not a book for the faint of heart. You'll cringe at parts, but you'll also be mesmerized by the journey.
Pick up The Road, by Cormac McCarthy, at The Tattered Cover Book Store. Be sure to mention Dom's Book Club in order to save 20% of this title. Happy reading!