Dom's Book Club has been around for at least 15 years – maybe a little longer – and every October I'm influenced by Halloween to pick a scary book. Or at least an edgy, dark thriller.
Well, Dean Koontz has been putting out those books for ages. His first work came out in the late 1960s, but in the 70s he turned to suspense thrillers, and boy did it pay off.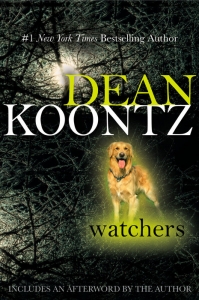 Many consider Watchers to be one of his best. I don't know about that, but since this is Colorado, how could I not pick one of his books that stars a dog. A brilliant, genetically-altered dog, at that.
This story brings together a man, the aforementioned superdog (named Einstein, of course), and a woman on the run. Oh, and the other mutated being, a murderous thing known only as "The Outsider."
Throw in a few other assorted characters, including a hit man, and you've got a spooky stew for your Halloween season.
Pick up Watchers at The Tattered Cover Book Store. Mention Dom's Book Club at checkout and they will kindly take 20% off the price of this particular book.
Then turn out all the lights – except that small reading light by your bed – and have a good time.