I try to imagine someone telling me a year ago that I would love a book about a college rowing team during the 1930s, and I'm sure I would've scoffed. C'mon, how in the world is that even interesting, let alone compelling?
If you ask the same question, well, brace yourself. The Boys in the Boat is not only a great book, it might be one of the best pieces of non-fiction you ever read.
Daniel James Brown immersed himself in research and then crafted a gem of a book. Set during the sobering years of the Great Depression, the true story follows the progress of nine young men at the University of Washington who overcome personal challenges and national hardship on their way to glory.
It's hard to believe, but in those years college rowing events – also known as crew – drew massive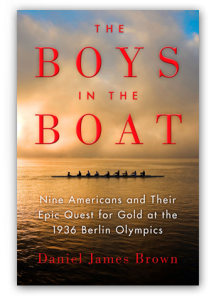 crowds. It wasn't unusual for 100,000 or more spectators to line the shores of lakes and rivers to cheer on their favorites. Brown takes us inside the lanes, though, and paints a memorable portrait.
The ultimate prize, of course, was Olympic gold. In this instance, though, there was even more on the line, for the games of 1936 were hosted by Adolph Hitler and his Nazi machine. Today we're able to see through the lens of the horrors that followed, but in '36 there were actually people who overlooked Hitler's vile treatment of people and railed against the idea of taking the games away from Germany.
This book is almost epic in its scope, from the humble, fragile beginnings of many of the competitors, to the mighty head-to-head meetings of fierce rivals, to the pageantry and spectacle of Olympic stardom. I was quickly sucked into the story, and you will be, too.
Find The Boys in the Boat at your nearest Tattered Cover Book Store, and be sure to mention Dom's Book Club at checkout to receive 20% off this title.