I was thinking about the well-used phrase "the book is better than the movie," and wondering how that works if the order is reversed. I mean, if we read a book first, are we more likely to judge the movie harshly – as opposed to seeing it on the screen first and then diving into the pages?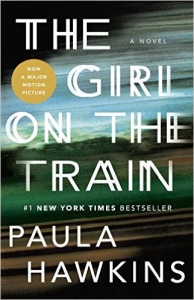 (Sorry for the random thought right off the bat. This should probably be a separate blog post on its own.)
Having said that, here's my disclaimer: I haven't seen the movie. But I was intrigued by the plot of this book, and wondered if it was somehow reminiscent of Strangers On a Train, the Hitchcock movie from the early 50s. (Short answer: not really.)
Paula Hawkins began her career as a journalist, but the transition to fiction has gone quite nicely, thank you. The Girl on The Train has sold a buttload – an estimated 11 million at last count, which I think qualifies – and became 2015's must-read.
The psychological thriller features Rachel, who's divorced and fighting the urge to drink. Her drunken sprees often end up in a blackout phase (plot point!) and she can't help calling her ex and even stopping by the house. Her ex-husband and his once-mistress-now-wife live in that house – the one Rachel once occupied. She passes this old neighborhood daily while commuting by train to London, and she spirals deeper into depression.
When she spies a couple in that same 'hood living a seemingly perfect life, she playfully nicknames them Jess and Jason, the "golden couple." So imagine her surprise one day, as the train speeds past, when she watches Jess kissing another man. And then, the next day, Jess disappears.
See what's going on here? We have complex layers of plot, from Rachel's own issues to the drama of the new woman in her old house to the mystery of the missing wife. Hawkins weaves all of these in a slow, suspenseful style, telling the story from the vantage point of three women: Rachel, Jess, and Anna, the ex's new wife.
Often compared (stylistically, at least) to Gone Girl, The Girl on The Train could very well keep you riveted through the Christmas break. You can pick it up for 20% off at The Tattered Cover Book Store if you mention Dom's Book Club at checkout. Enjoy!