So imagine you're Mercedes. You have a pretty darned good SUV on your hands with the GL series, but you want to add an extra touch that will turn heads and boost your game within the luxury SUV segment.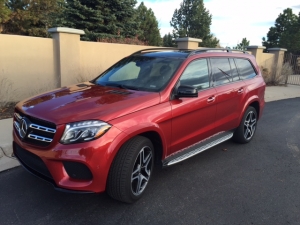 You also happen to have a very successful – and somewhat sexy – S-class of sedans. You know, if you could only find a way to splice these two vehicles into one stunning/sexy SUV . . .
Okay, so now you at least understand how the GL became the GLS for 2017.
This is a 7-passenger beast, but, unlike some competitors, the GLS can handle seven adults. The third row – often, in other SUVs, a spot that maybe could accommodate children – actually works for adults. No, you won't fit NBA players back there, but most adults do just fine. I took a group of six out hiking, and there were zero space complaints.
The power-folding function for that last row is also first-rate, so nobody has to grunt getting in or out.
By the way, fold the third row to get almost 50 cubic feet of storage. Drop the second row and that number jumps to about 94 cubic feet.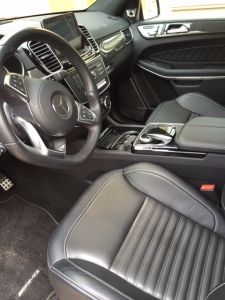 Behind the wheel you'll enjoy the impressive layout. One passenger likened it to a plane's cockpit, and that's an apt description. And yet, even with the high-tech touches, the dash and center console are not overwhelming at all. One of the upgrades this year was the infotainment system, which some people might complain didn't go high tech enough. I found it to be an excellent design. The screen has expanded from 7-inches to 8 for 2017.
The multi-contour seating is just as comfortable as you'd expect from Mercedes, and I particularly enjoyed the full-length sliding sunroof that allows your rear passengers to enjoy the sky show, too.
Because the GLS comes in four trim levels, you'll be able to choose just how much oomph you want for your money. I drove the 550 4Matic, a 9-speed automatic that delivers an impressive 449 horsepower through its V8. If you want staggering power, check out the AMG GLS63, which will knock you back into your seat with 577 horses.
If that's a bit much for you, look into the 450 (362 horsepower V6), or even the diesel-powered 350d, with its 255hp.
Of course, the emblem on the front of the car means you're opting for luxury, and that's what you get on the road. The GLS purrs along, with super-smooth handling and acceleration. The slight redesign on the exterior also makes this luxury SUV one of the most handsome on the market.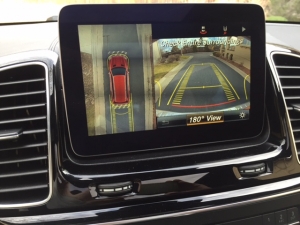 I do have to admit that the desire to show off might be a bit much with the logo projector. Yes, get out of the car at night – or unlock your doors as you approach it – and the ground outside your door is bedazzled with the Mercedes logo. I know it's supposed to be classy, but it drew chuckles from most observers. "Nice Bat Signal," one onlooker said.
When it comes to competition, it depends on how you qualify it. BMW and Audi have their own luxury SUVs, but they lack the adult-sized third row. And if you want to look into Cadillac's Escalade or the Lincoln Navigator, just know you're getting extremely large vehicles.
The Mercedes GLS550 is a sweet marriage of the much-loved S-Class with the SUV family. My test model, with $17,000 worth of options, clocked in at about $110k. Take a test drive soon and soak it all in.
Reviewed by Dom Testa
Car provided by manufacturer