I didn't know we needed another luxury sports sedan. Somebody, however, must've raised their hand and made the request, so Jaguar complied.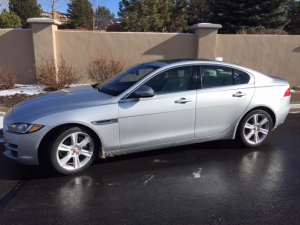 Now, find whoever raised that hand and let's buy them several drinks. The Jag XE is one fun car to drive.
Essentially a baby brother to the XF, this is an all-new entry in the segment, not an upgrade or redesign. And, as with any debut, you'll find some good (mostly good, in fact) and just a few areas where I'm sure Jag's design team have already begun taking notes.
Let's start with one of the obvious pluses: that gorgeous exterior. I freely admit that I'm a complete sucker for almost all Jaguar lines. Check the record and you'll find my reviews often include a significant amount of drool, especially concerning the dynamic XK and F-Type.
Whoa. I'm having flashbacks.
But back to the XE. It won't turn as many heads as the aforementioned siblings, but the British carmaker has scored again with a classy, distinguished, and sporty contour. If you've always liked the BMW 3-series or Audi S4 for their visual appeal, take a good look at the XE. It more than holds up. (I did my best to capture the overall look in the photo, but somehow pics do not do this car justice.)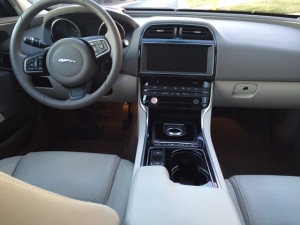 Another check mark in the positive column comes from the ride itself. Smooth and powerful, with more than adequate road-gripping excitement, you'll love the way this car scoots around town and through the hills. Not the fastest off the starting line (and an odd hesitation when you first hit the accelerator), but also not the slowest. Let's call it very pleasing.
The dings come when you focus on the interior. No, it's not hideous by any stretch, but remember who the XE is going up against. The Germans have set the bar high, and this particular Jaguar hasn't quite reached it.
There's nothing wrong, per se, but also nothing that dazzles, either. Nothing, let's say, that matches the view from the outside. While the materials are good, they felt a touch lacking.
The layout is good, and I've always been a fan of the stylish gear-shifter that rises up from the center console when you fire up the engine. Depending on the trim (more on that later), you could find yourself with either an 8-inch or 10.2-inch InControl touch screen. It's a tad complex. I'd be willing to bet that it's one of the areas they adjust soon.
You also have a decision to make regarding space. With such a beautiful machine and a decent starting price, how important is that rear seat to you? Because I have to warn you that you're not getting much legroom at all. Like, hardly any. And the space issue continues into the trunk, which purports to have a better-than-average cubic-inch total, but is hindered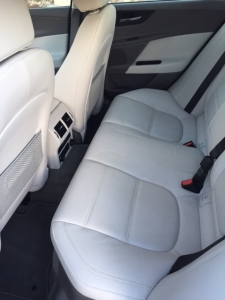 by a somewhat-narrow entry.
I don't know if these concerns are enough to knock down the grade too much. Let's call them fair trade-offs for a fantastic driving (and gorgeous) machine.
You'll find four separate trim levels to compare, with power plants ranging from four- and six-cylinder gas engines to a fuel-sipping diesel. I drove the four-cylinder diesel, which delivers about 35-36 mph in combined driving.
The base price for my diesel XE clocked in at just a hair under $43k.
For its debut, you have to give very high marks to the Jaguar XE. And things will only get better.
Reviewed by Dom Testa
Vehicle provided by manufacturer