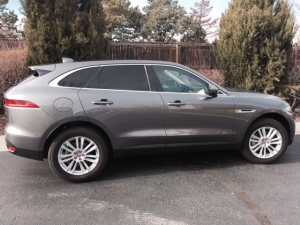 This will sound strange, since the all-new Jaguar F-Pace is suited quite well to go off-road . . . but I think it's much too pretty to mix it up in the outback. Like Brad Pitt in Fight Club.
It's probably a challenge for engineers and designers to create a beautiful SUV. I mean, by their nature, they're geared toward hauling stuff and trundling over rocky trails, not impressing socialites at the valet. And yet this creature manages to do both.
Like the new XE, the F-Pace is making its debut for 2017, so there's no previous model to build on. Jaguar said, "Hey, we're getting into this mid-size luxury SUV market, y'all, so make room." And what a nice debut it is.
As stated, the exterior is one of the best – arguable THE best – in the segment. But Jaguar has always made gorgeous cars, so it's not like we should've expected an ugly duckling. Smooth, stylish curves and an aerodynamic line make it stand out.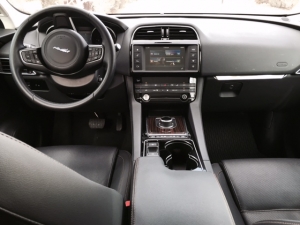 Inside it loses only a half-step to some of the competition. Depending on your options, the dash features either an 8-inch or 10.2-inch touchscreen display. Even in the back there's a nice feel for your passengers, and they won't get squished. The F-Pace is long enough to provide legroom for your guests and a huge storage area in the back.
In fact, with the rear seat folded you'll get some of the best volume in the segment. And, if you're into stowing lots of outdoor gear, check out the optional waterproof Activity Key. It's a bracelet that you can swipe across the lift gate for an automatic open. Hey, nobody wants to put their snowboard down and fumble for a key, right?
You get multiple trim options to choose from, starting with the base model up to the loaded S model. All of them come with standard all-wheel-drive and a healthy list of other standard features. If you're looking for an extra boost in mileage, check out the 20d with its diesel engine. That will add a few mpg to the V6's average of 20.
I enjoyed the drive of the F-Pace. It performed similarly to the XE that I previously reviewed. Indeed, overall this SUV handles more like a sedan than some sedans I've driven in the last year.
Acceleration won't blow your hair back, but won't embarrass you, either. I never took the F-Pace off-road, but both city and highway driving was ultra-smooth and pow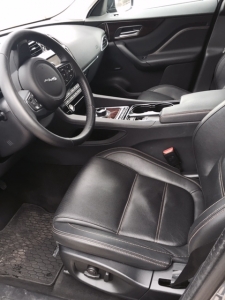 erful. In particular, corner-handling was impressive. Most Jaguars are just fun to drive, and the F-Pace is no exception.
If you are looking for a sport utility vehicle that you can take off the beaten path, just know that this car belongs in the same family as the Land Rover. Some people I trust claim that the F-Pace does that lineage proud when it leaves the pavement.
So this might be one of the best combinations you'll find for both trail adventures and city driving. That's saying something, especially considering the amount of competition in this category.
The 35t model I drove was base-priced at right around $50k, and with options rolled in at $56k.
The Jaguar F-Pace looks great, drives very well, and has enough inside to spoil you. And there's a nice bonus if you like to stand out. Because they're new, you won't see many others on the road. Yet.
Reviewed by Dom Testa
Vehicle provided by manufacturer