We rarely have guests on our morning radio show, but several years ago author Nicholas Sparks popped in for about an hour. Despite being a hot-shot writer, having sold countless millions of books – and had many turned into successful movies – he was down-to-Earth and flat-out charming. It was a fun interview.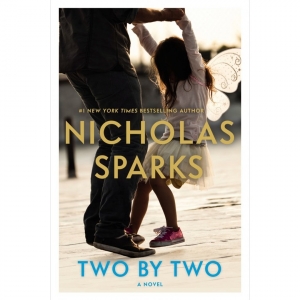 Fast forward about ten years, and, using the same basic formula, his success has continued to build. However, some other things have happened in his life, things that may have influenced his latest novel.
Two By Two tells the story of Russ, a man who supposedly has it all. His work life is terrific, his marriage is wonderful, and a beautiful daughter comes along to make it all perfect.
And then, just like that, it's no longer perfect.
I've read a few reviews of this book from people who are disappointed at the turn in Nicholas Sparks. This isn't cut from the same cloth that produced The Notebook, Message in a Bottle, or A Walk to Remember. This is much darker, delving into the dissolution of a relationship, and how that impacts everything else.
Many believe that his own real-life divorce in 2015 may have inspired some of this book. Well, how could it not, right?
Granted, some are happy with the fact that we can see more of a father/daughter relationship story, but if you're hoping for The Notebook Part Two . . . sorry.
I debated whether or not to choose this book for the month of love, but ultimately decided that not all Valentines last. It's good (in my opinion) to see an author like Sparks veer off the traditional path, to explore darker moods and themes. It's certainly not for everyone, but that's fine, too.
Check out Two By Two at your nearest Tattered Cover Book Store, and if you mention Dom's Book Club they'll knock off 20% on this particular title. Enjoy!