Do you remember when the first hybrid vehicles emerged? Remember how most of us poked fun at their odd shapes, claiming the extra miles-per-gallon wasn't worth the embarrassment?
Then, as a few years crept by, the snide comments fell away. The exteriors began to appear "more normal." The interiors inched up in comfort and class. The prices – when either fuel prices or incentives (or both) were factored in – began to catch the attention of more people.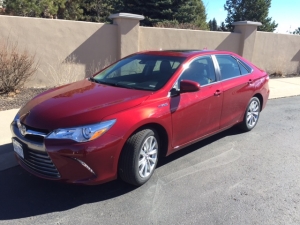 Today, the combo engine/electric cars and trucks are everywhere. I've owned a hybrid for the past three years and can't imagine going back. Suffice to say that times have indeed changed.
Toyota, which helped to pioneer the trend with their Prius model, took the best-selling car, the Camry, and created a hybrid version ten years ago. While a few critics have grumbled that Toyota hasn't improved their hybrid engineering quickly enough, one thing remains true: The Camry is a reliable, efficient, and not-bad-to-look-at choice.
A few details
You can find the Camry hybrid in three trim levels, ranging from the base LE model, a somewhat-zippier SE, and the more refined (ahem) XLE. (For this review, I spent a week with the XLE.)
Between the electric motor and its companion 4-cylinder engine, you'll get about 200 horsepower to play with. Good news for Colorado drivers: the power is distributed to the front wheels.
Mileage varies between the trim levels; the base model will deliver 40 mpg combined (city/highway), while the XLE, with its slightly larger wheels, is good for about 38.
These numbers lag behind some of the competition, like Honda's Accord hybrid. But there are numerous other factors to keep in mind.
Inside
If size truly matters, the interior of the Camry hybrid scores high. Both the front and rear compartments are roomy and comfortable. I'm 6-feet tall and had no leg issues in the back seat.
Storage is also well done. You'll find plenty of room for stuffing things up front, and the trunk checks in at a little over 13 cubic feet. Sure, that's a bit less than the standard (non-hybrid) Camry, but the rear seat does fold down if that's really an issue.
I gave high marks for visibility, too. And, when it comes to dash design, kudos to the Toyota engineers for combining reasonably-high tech with simple (and easy to understand) design. You don't have to jump through hoops just to adjust the fan.
Way too many car makers have overthought the dash controls. That virus hasn't hit Toyota (yet).
The LE and SE models get Toyota's 6.1-inch Entune touchscreen, while the XLE nudges the screen up to 7 inches.
The drive
No, it won't bolt from the starting line like . . . well, Usain Bolt. But I've yet to meet a hybrid shopper whose primary concern was a jackrabbit start.
On the other hand, it's not a shabby start, either. I found the Camry to deliver pretty good power, and a quiet ride. The car handles well, with steering that may not be the most touchy-feely, but is responsive and smooth.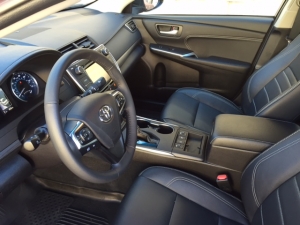 And, with all hybrid vehicles, there's a transition moment, when the car switches from electric motor to gasoline engine. Ideally this will be smooth and barely noticeable. Here, the Camry also scores, with a gentle shift.
The verdict
Listen, the Camry has been one of the biggest-selling cars in history. A hybrid model takes that very-loved automobile and adds fuel economy. It's tough to go wrong with that combination.
You'll find some other hybrids with better mileage, others with slightly-better interiors, and others that might have an exterior you prefer.
But, putting everything together, it's very tough to beat Toyota's mid-size hybrid star.