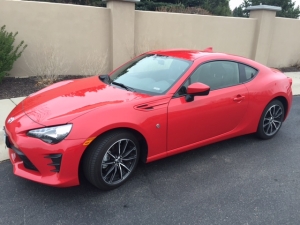 When Toyota finally decided to end the Scion experiment – they stuck it out for thirteen years before pulling the plug in 2016 – they didn't completely abandon the entire fleet of vehicles.
They took the Scion iA and re-branded it as the Toyota Yaris iA. The iM? Presto chango, it's now the Corolla iM. But what to do with Scion's rear-wheel-drive sports car, the FR-S?
Say hello to the Toyota 86. (And, please, don't say "eighty-six." Purists will insist you pronounce it "eight-six." Well, okay.)
The car is actually the result of cooperative development between Toyota and Subaru. The Subie is sold under the name BRZ, and, while there are a few differences, it's essentially the same car.
And it's a tiny one. I can only imagine the snickers that must've emanated from people watching me getting in and out. I'm not a giant, but folding my 6-foot frame into the sports car couldn't have been pretty.
But once inside it didn't seem cramped. There's pretty good leg room, and, well, it's a fun ride. The somewhat-challenging yoga moves to gain entry are worth it.
Listen, the 86 isn't designed to be a drag racer. Give that 4-cylinder engine all she's got and you might net between six and seven seconds in a 0-60 trial. So, no, it won't blow you away. The handling, however, is where the little car shines. It's a fun, twisty-road sorta ride, and you know exactly what I'm talking about.
There's basically one trim style, and you can choose between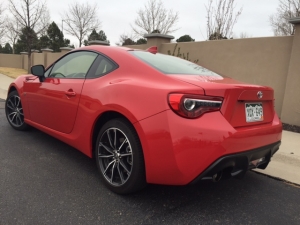 the manual transmission (I would) and the automatic (I wouldn't).
On the outside, you'll notice very few changes from the old Scion days – a slightly different grill and some splashes here and there. But the interior is comfortable and (for the price tag) well-appointed.
The dash display is easy to understand, the tachometer gets the full-frontal treatment, and Toyota says the materials are something called Granlux; don't ask me, it's some kind of synthetic material. But it feels fine.
And although you're paying for a four-seater, let's not kid anyone. The back seat maybe can hold a couple of children for a short drive. A friend of mine asked her 13-year-old to crawl back there, and she rode cross-legged in order to make it work. Otherwise, that back seat is a fine place to store a gym bag or a few groceries.
One odd quirk (that maybe only I would notice) is the arrangement of the power window controls on the driver's door. The inside door handle made it awkward to control the window, like the handle's in the way.
Considering it's a sports car, the mileage is decent, averaging around 24. But fuel-economy experts will grumble that such a low-power machine should do a little better.
However, if you're wanting to pep thi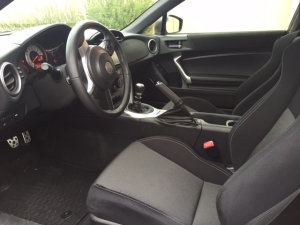 ngs up a bit, but you're on a limited budget, you'll appreciate the sticker below $28k.
Overall, this is a fun ride for the money. It looks sharp, it handles like a charm, and it can fit into tight spaces. Toyota made the right call in preserving the old FR-S and slapping a new name tag on it. Go have some fun.
2017 Toyota 86
2.0L 4-cylinder, 205 horsepower
21/28/24 mileage
MSRP: $26,255 (base), $27,120 (as tested)
Reviewed by Dom Testa
Car provided by manufacturer