I drove really fast.
Don't ask me "how f
ast?" because I will only zip my lip. I'd like to continue to review cars by Dodge from time to time, you see.
But let's be real. You don't put a radio dude in a supercharged muscle car that pumps out 707-horsepower (that's not a typo) and then feign surprise when he "sees what she can do." I'm sure the good people at Dodge (and Rocky Mountain Redline) are used to looking the other way.
Besides a rocket for an engine, however, the '17 Challenger SRT Hellcat has lots going for it, and you'd be short-sighted to think it's purely a trouble-making muscle car.
Before we get into the performance, though, let's start with your choices. Rather than rattle off all of the trim levels available, let's just say there's more than a dozen. If you can't find a Challenger to fit your needs, you're beyond help.
It's not just the trim levels, from the base SXT (V6 engine/305-horsepower) to the R/T with its V8, to the SRT 292, to the monster that is the Hellcat – no, after you settle on one of those you'll find multiple sub-trims available. It's like pizza; all these different crust styles, followed by your countless choices of toppings. (Yes, I just compared a car to a pizza, which is a first for me. It won't happen again.)
Then, if that's not enough to spin your head, you get behind the wheel and (depending on the trim) suddenly have to choose between power options: Track, Sport, Custom, and "Race options." I'll take Race Options for 200, Alex.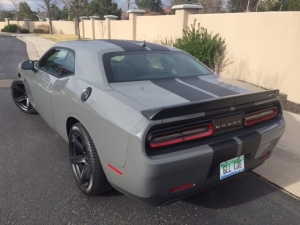 But that all went out the window when I saw the button for "Launch control." I'm not kidding. And with 700-plus horses, it's not farfetched to think orbit is attainable.
Somewhere in all of those choices you'll be able to configure a Challenger that combines the power you want with the mileage you prefer and the price you're willing to pay. It's possible to start with an MSRP around $27k (although I wouldn't count on it after you tinker with extras) and work your way up to the dazzling Hellcat edition of the SRT, which (with options) I tested at about $72k.
Exterior-wise, this beast not only screams MUSCLE CAR, it grabs you by the collar, lifts you an inch or two off the ground, and blows cigarette smoke in your face. It's a badass car.
Inside, you'll be pleasantly greeted with comfortable seats and a smartly-designed cockpit. I loved the shifter, which just felt good in the hand, and the impressive 8.4-inch Uconnect infotainment system. If you're spoiled by the pinch/swipe functionality of your phone, just know you can do those things with this car's system, too. That's cool.
The Harmon-Kardon sound was up to the challenge of pumping music over the growl of the power plant – although there was a weird quirk that might've just been my test car. Once I shut off or muted the sound system/radio/whatever, it would pop back on automatically when I started the car or – and this was really strange – when I put it in reverse. I'd mute the music, then shift into reverse, and the tunes would start blasting again. Like I said, it could've just been that my test car was possessed.
The only other dings in this review come from a below-average visibility score for the blind spot (you'll just have to blow past anyone who might be lurking there), and large doors that make it tough in tight parking spots. Well, and lackluster fuel ratings for the Hellcat, but c'mon – what car that hits 200mph is gonna sip gas like a hybrid?
(I felt I had to list these, just so the review didn't come across as too much of a drooling love affair.)
On a more positive note, there were som
e little things that really scored. The backup camera seemed extra sharp, the storage was above average, and the trunk space was cavernous. Sure, the back seat is practically non-existent, but who cares?
The Dodge Challenger brings back the fun in driving, if that's been missing in your life. You don't even have to go all-out with the Hellcat; the car's many forms are all solid choices, with good safety ratings, good handling/steering, and superior braking.
And did I mention it goes really fast?
2017 Dodge Challenger SRT Hellcat
(As tested) 6.2-liter Supercharged HEMI V8
8-speed transmission, 707-horsepower
Fuel economy: 13/22/16 combined
MSRP: $62,495 (base), $71,970 (as tested with options)
Reviewed by Dom Testa
Vehicle provided by manufacturer