On the radio show we're constantly giving grief to our consultant – mostly because consultants are just fun to pick on.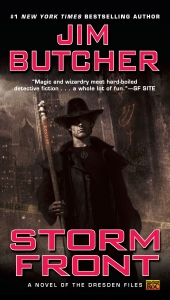 Fortunately, regardless of all the crap I give him, he's a good guy and he loves to read. So when he recommended a book to me called Storm Front, I had to look into it. And now you should, too.
Jim Butcher probably had no idea back in 2000 that this fun, quirky book he'd written would launch such a successful series. Known as The Dresden Files (because the lead character is named Harry Dresden), the series now totals 15 books. Storm Front is where it all began.
Harry is a detective – but he's also a wizard. (I know, my first reaction was likely the same as yours: What?) When a woman contacts Harry, asking him to help find her husband – who just happens to be an amateur magician – Harry is rightly on alert.
Then, when a couple of gruesome murders (and they are indeed gruesome; we're talking hearts ripped out) leave Harry as the lead suspect, he must go into overdrive to clear his name, investigating both the crimes and the missing man. They're obviously connected.
I really enjoyed this book, probably because the premise of the entire series is so interesting and unique. I mean, detective fiction that mixes in a few wizards, warlocks, vampires, and other assorted creatures? Weird, but fun, and all set in (sorta) our world, specifically Chicago.
Someone asked me if this is a good book for kids, and the answer is no. This is for mature audiences only.
I'll be diving into book number two pretty soon, curious to see what happens next to our wizard detective. In the meantime, you should pick up a copy of Storm Front at The Tattered Cover Book Store. Just mention Dom's Book Club at checkout and they'll knock 20% off this title.