I had to laugh when I saw a smattering of reviews for this latest smash hit from Liane Moriarty. There were phrases like "good pool book," or "interesting airplane book." Apparently you can't just sit at home and turn the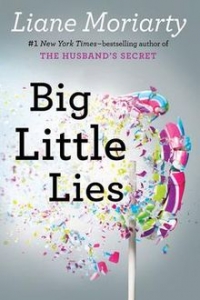 pages.
Give Ms. Moriarty this, however: She has perfected the gripping plot that keeps readers intrigued for 450 pages. And that's not easy to do.
The story is set in Australia (the author's stomping grounds), but one glance at the premise and you realize it could easily be the ol' U.S. of A. Three suburban moms, each with a kid (or kids) at a preschool. One mom is the gorgeous wife of the perfect husband, and their twins are (naturally) perfect, too.
Another mom is divorced, struggling with a teenager who prefers to live with her dad. And the third character is a quiet, quirky single mom who – bless her heart – doesn't quite fit in.
And what an interesting mystery this book presents. You learn upfront that someone dies, but you don't know who (yet) or whodunnit (yet). That in itself makes for a fun read, and Moriarty knows her way around the genre.
Sure, you could watch the HBO series (with Nicole Kidman and Reese Witherspoon), but check out the novel first. You'll find it at The Tattered Cover Book Store. If you mention Dom's Book Club, they'll knock 20% off this title.
Happy reading, especially if you're at the pool or on a plane. 😉