My own personal car is a Lexus hybrid vehicle (the ES300ah), so you'd think I'd have some built-in positive bias toward this hybrid SUV. And, in truth, I probably did go into the week-long test with the feeling I'd rave about the whole package.


But I didn't.
Don't get me wrong, this is a very good vehicle, and it fits the bill for anyone who wants a luxury SUV that runs on hybrid energy. I think I was looking for that spark, something that would excite me – and I never got overly excited.
Let's start with the basics. The NX300h (sigh . . . again, could we please just bring back the days when cars had NAMES?) is a compact luxury SUV/crossover vehicle. It carries all of its passengers in quiet comfort, which is good, and it does put you up a little higher than traditional hybrid cars (like mine).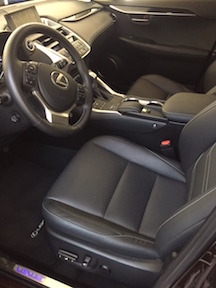 Give the NX a nice once-over on the outside, and you'll likely nod in appreciation. It's a pretty car – well, unless you get a questionable color. My test vehicle was – ahem – "Autumn Shimmer." (Naming car colors has apparently been outsourced to the agency that comes up with nail polish colors.)
No qualms about that exterior, though. And even when you first slide behind the wheel you'll like the inside, too. The styling is first-rate, and the seats deliver Lexus's cushy, comfy support. For some strange reason, I did struggle with finding the perfect seat settings. I'm sure everyone can eventually dial up the right positions.
It took me a couple of days to warm to the track pad controls for things like audio, but once you get accustomed to it, it's fine. The other dashboard controls, for climate, etc., were easy, as well.
When we think of an SUV, we often take for granted that there will be a lot of storage room. Eh, not so much. This particular crossover doesn't boast tons of space, and comes up short in this area against some of the competition. The rear seats do the basic 60/40 split folding, which I used to haul a few boxes.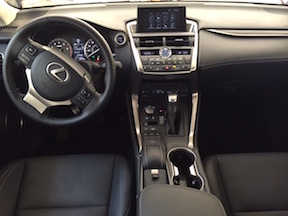 As for the drive, I had zero complaints. Lexus just knows how to build a smooth, luxurious ride. Because it's powered by a hybrid gas/electric plant, you won't get rocket acceleration, but I've yet to meet anyone who bought a family truckster who wanted to drag race. Overall you get about 194 horsepower, and (Coloradans love this) all-wheel-drive.
The NX will get you where you want to go with one of the best rides in the segment.
Your list of standard features is generous, but there are multiple options packages, including the Luxury Package, to sweeten your ride. And mileage, which is the reason most folks gravitate to a hybrid in the first place, comes in at a combined 31 mpg.
I wanted to rave about the NX300h, but instead merely walked away with a healthy respect.
(Note: If you want m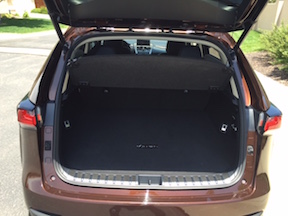 ore oomph, check out the NX 200t, which swaps a traditional gasoline-powered engine for the hybrid system.)
2017 Lexus NX300h
2.5 Liter Hybrid, 4-cylinder, 16-vale DOHC
All-wheel-drive
MSRP:   $39,720
As tested, with options:  $50,433
Fuel economy:  33/30/31 combined