When you h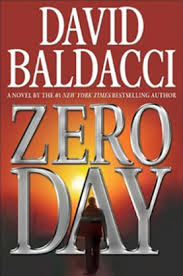 ave three dozen novels to your credit, and well over 100 million books in print, we can pretty much deduce that people dig your stories. David Baldacci knows how to write a tale that impels a reader to turn the page. It's almost the epitome of the thriller genre.
He's also created several characters who have their own series. The King and Maxwell series has six books, the Camel Club another six, and the Will Robie series its own half-dozen.
In 2011 Baldacci introduced a military police character named John Puller, and thrust him into a brutal murder mystery. Readers instantly embraced the tough, smart CID man, and voila! Another hit series!
In Zero Day, Puller travels to coal country in West Virginia to investigate the murder of an Army intelligence officer and his family. Of course, he MUST team up with the tough local female cop – it's like Thriller Novel Law, or something – and the excitement begins.
Disclaimer: Many readers have screamed that the John Puller character is a ripoff of Lee Child's John Reacher character – hell, they even share a first name. But that's probably not completely fair to Mr. Baldacci. In the world of thrillers, with literally thousands of them penned every year, you're bound to have competing characters who share a few characteristics.
We used to call books like these a good "beach read." Well, it's summertime, the weather's hot, and you now have a fun page-turner to read. Find Zero Day at The Tattered Cover Book Store, and if you mention Dom's Book Club they'll shave 20% off the cost of this title.
Have fun!