I walk through Cherry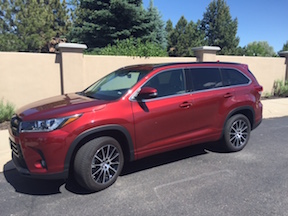 Creek State Park on a regular basis. It's convenient and has some pretty cool wooded trails. Passing by one of the dog-park entrances, I joke that it's really an SUV showroom. Every crossover or SUV invented can be found in this lot. That includes a bunch of Highlanders.
It's been a few years since I tooled around in Toyota's versatile entry in the crowded three-row SUV field. In those years they've done just enough to give it a nice update, while keeping the elements that made it one of the segment's leaders.
First things first – this is a great vehicle. I say that because Toyota has zeroed in on a good combination of everything a Colorado resident really wants in an SUV: a nice size without being monstrous, a fun drive, good looks, and pretty good gas mileage. All of this for a price that doesn't seem out of line at all.
Yes, the exterior looks fine. I mean, you can only do so much with curves and angles to dress up an SUV. But it's still a handsome car.
But inside is where the Highlander shines. I really liked the first two rows – the third row is (if we're being honest) mostly a place to store kids, because adults won't feel too special back there.
The cockpit is a nice arrangement of functionality with comfort. Work your way up to one of the higher-end trim levels to get the full treatment, but even the mid-range SE model I drove for a week treated me just fine.
Everything on the dashboard is intuitive and well-placed, with easy controls. The storage space up front is very good, and the Highlander has a feature that I can't believe every other car maker hasn't stolen: a shelf. Yes, along the dash there's a shelf, a cool place to stash your phone or other gadgets. Or snacks. Yes, we like a place to hold our snacks.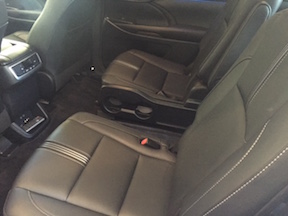 The second row can either come as your traditional bench, or (as in the model I drove) a pretty cool set of two captain's chairs. (They may not be the same kind of captain's chairs we remember from Uncle Bob's van, but let's call 'em that, anyway.) Depending on your needs, be sure to at least check out those. If I'm a passenger in the second row, I'm lovin' the comfort and personal space.
There's also a nice entertainment system for your zombies in the back.
The storage in the way-back is about average for this segment. Some have a little more, but the Highlander won't disappoint.
Then there's the ride. I enjoyed my week behind the wheel, because the 8-speed automatic V6 delivered just enough power without guzzling gas. Acceleration was good, the handling itself was superb, and even the braking was confidence-boosting.
To go along with th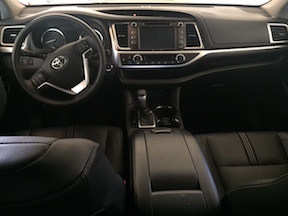 e nice ride you get the satisfaction of knowing that the safety systems are up to the task, too. All of the Highlanders come with Toyota's Safety Sense package, which basically helps you combat goofballs on the road as well as your own human errors.
You'll find multiple trim levels, ranging from the base LE up to the pretentious-sounding-but-really-not Limited Platinum. Mileage for my SE averages a combined 23, and the sticker (including the option of the rear-seat BluRay DVD entertainment system) rolled in just over $42k.
As mentioned, this segment of the car industry isn't lacking for competition. There are plenty of good-to-great three-row SUVs to vie for your affection and your car loan. But the Highlander should be right up there near the top. It's a great choice.
2017 Toyota Highlander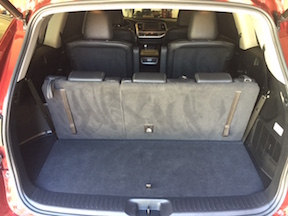 SE
3/5L V6, 8-speed automatic transmission
MSRP: $39,690
As tested:  $42,440
Fuel economy:  21/27/23 combined
Vehicle reviewed by Dom Testa
Vehicle provided by manufacturer