With almost everything in life, there seems to be a trade-off. You want the best steak in town, you better be ready to drop big coin. For the thrill of a rollercoaster ride you have to wait in a long line. And, often, to get a gorgeous sports coupe at a decent price, you have to give up something, too.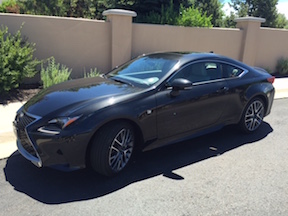 For the RC350 you're giving up a little bit of ride quality, as well as some of the creature comforts that have spoiled us for a few years.
Let's start with that stunning exterior, though. Since its debut in 2014, the car has lived up to the RC name – which allegedly stands for Radical Coupe. (So now cars are being named by pimply-faced skateboarders, but so what?)
It turns heads, there's no doubt. And if you opt for the F Sport Package as an add-on, you'll get a totally awesome spindle grille, dude. (Sorry, I lapsed into skater talk.) But, seriously, it looks beautiful.
Climbing in and actually driving around are what really matter, however. And that's not necessarily an easy thing for some of us to do. I must've looked like an arthritic praying mantis trying to fold myself into the car. To be fair, lots of cars like the RC – with their long doors and low ride – are not the easiest for mature (ahem) six-footers to enter or exit.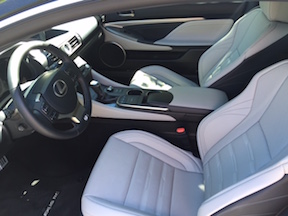 Inside, I found the cockpit attractive with its genuine wood trim, but a few things detracted from the experience. Sure, it's a luxurious compartment, and you won't find any flaws in the materials or workmanship. But I cannot get on board with car makers who insist on trackpads and other such devices to control things like climate or audio. It's a needless tech step that is simply (I think) dangerous. You just spend too much time monkeying with it while you're driving. Some of the RCs come without this feature, and you might consider that.
Buy this car for the looks, but you won't be buying it for storage convenience. And I'm not just talking about the trunk. Front-seat storage is at a premium, which also strikes me as not well-thought-out by the engineers. We are a society that now wants places to put all our stuff. The RC doesn't offer up much.
You also won't buy this car for hauling your kids around. There's not much in the way of backseat headroom, and almost no legroom.
As for the drive, the car has a little pep in its step – just not a ton. Other luxury sport coupes will leave it behind once the light turns green. Again, this is one of the trade-offs for having the better-looking ride.
Handling and steering are pretty good. I took the RC out for a spin in the foothills and had a great time with the twisty turns. My test car came with the all-wheel-drive option, which Coloradans will appreciate.
Lexus has managed to confound us a bit. The RC350 is a beautiful, fun car to drive, but has a few niggling drawbacks that keep us from falling in love unconditionally. I wouldn't be surprised if they address these issues soon a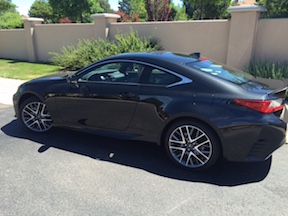 nd wow us completely.
2017 Lexus RC350 Coupe
3.5L V6 – 6 speed automatic, 306 horsepower, all-wheel-drive
MSRP:  $45,175
As tested (including F Sport option):  $57,198
Fuel economy:  19/26/21 combined
Reviewed by Dom Testa
Vehicle provided by manufacturer