Historical fiction is often compelling, because we get to live through a fictional story that is set against a backdrop we either know well, or think we know well. Tales set during World War II seem to have a particular appeal to many readers, and Kristin Hannah sets her sights on that era.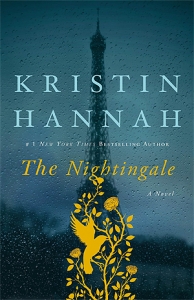 In this book we witness the horror and cruelty (both physical and emotional) that war brings to the civilian population. Two sisters, Dianne and Isabelle, must deal with the Nazi occupation of their home country, France.
It's a story of love in the midst of the worst possible scenario. Many readers claim to have cried their eyes out, but Hannah still is able to tug you through the tears and fears to present a remarkable story of survival.
In the first paragraph we get a sense of what's to come:
"In love we find out who we want to be; in war we find out who we are."
The book has been optioned as a possible film. With the sales numbers for this title already through the roof, I think a movie is a sure thing.
Check out The Nightingale at your nearest Tattered Cover Book Store. When you mention Dom's Book Club, you'll get 20% off this title.
*note: get Kleenex first