When the designers at Infiniti put together the QX30, they banked on the fact that drivers would be cool with trade-offs. We'll give you this, they seemed to say, in exchan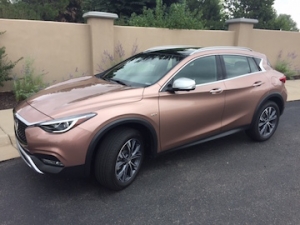 ge for that.
Which is not uncommon in cars found in a lower price point. But when you insert the word "luxury" in the description, I think car shoppers tend to demand a little more.
Granted, the QX isn't priced like some of its cousins in the same segment, but still. It's an Infiniti.
Essentially we can describe it as a compact (some say subcompact) luxury crossover/SUV. So you know right up front that you're getting some elements of a coupe mixed in with some of the best traits of an SUV. Which is fine.
You'll find four trim levels from which to choose. For a week I tooled around in the Premium model with all-wheel-drive, and I'd recommend at least that level. For Colorado drivers you not only get the snow-travel benefit, but the AWD option adds a touch-more ground clearance – and we do appreciate that when the drifts roll in.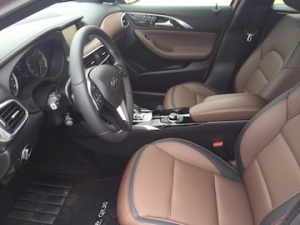 Outwardly, I think the vehicle looks pretty snazzy. It has that sorta bug-shaped appearance common to a lot of crossovers today, but Infiniti never, ever lacks for styling. And this is a stylish car.
Here, for example, you'll also note one of the trade-offs I mentioned. Those looks cost you in terms of vision. The QX30 has more than a fair share of blind spots. Expanded frames and a thin rear window leave you glancing around a bit more than usual. In this case, definitely opt for the Technology package, because it provides blind-spot warnings and the ultra-cool Around-View monitor. It's helpful.
Once inside, you'll again appreciate the care that Infiniti shows for materials and craftsmanship. I kept an Infiniti as my personal car for a few years, and never once complained about the luxurious feel inside.
But, again with the trade-offs. The cockpit feels cramped, and it's not the easiest vehicle for a six-foot dude to get in and out of. Because it has the word "crossover" or "SUV" in its description, you might also assume a ton of space. It's okay, but nothing to scream about. So you have a luxurious interior, just not a ton of it. Fair enough?
Then there's the ride. I s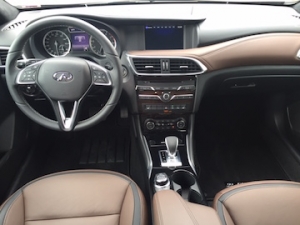 o wanted to love it, but never fell head-over-heels with the performance. I will note, however, that the 2-liter turbocharged engine makes the most of its 208 horsepower. I liked the pep off the starting line, and the steering felt good.
It just seemed to lag at times, which manifested itself most when you were in the E-mode of driving.
Tech-wise, Infiniti teams up with Mercedes to include some pretty nice gear for even the base model of the QX. If you step up to the other classes, namely the Premium or Sport versions, you'll be happier. I found most of the controls intuitive and easy to operate.
When I parted with the car after a week, I took a few days to figure out why I never drooled over the QX, especially since I once was a loyal Infiniti owner. I came to the conclusion that the little crossover looked nice on the outside, but just didn't deliver the fun ride that I expected.
One thing that could offset that for many shoppers is the price point. If you're gung-ho about getting into the luxury class, the base MSRP for my Premium edition was a respectable $37,700. Even with a handful of upgrade options, it stayed in the 40s. That's very do-able for many first-time luxury-brand buyers.
2018 Infiniti QX30

2.0-L 4-cylinder, 7-speed automatic transmission
MSRP:   $37,000
As tested:  $46, 460
Fuel economy:   21/30/25 combined
Reviewed by Dom Testa
Vehicle provided by manufacturer