I uttered a sentence the other day that created quite a stir in my friend, the car junkie who lives and breathes anything with four wheels. I said, "I think the Audi A4 may be as good as the BMW 3-series."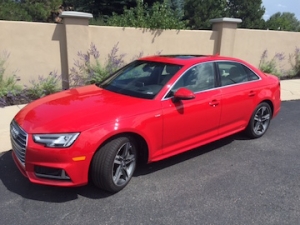 You'd have thought I'd peed on the upholstery.
I don't know, perhaps you have the same shocked response. Sorry. My response to your response would be: Have you driven the A4 lately?
Granted, most car geeks have anointed the BMW 3 as God's-Gift-To-The-Car-World, and, in many cases, rightly so. But the '17 A4 has taken its redesign very seriously – to the point where it might well be in the discussion for best all-around small luxury sedan.
I'll go get some iced tea while you take a breath.
Ok, all better now?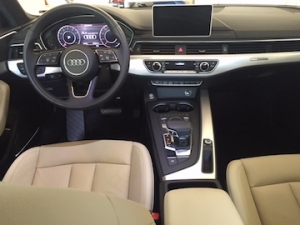 Listen, the A4 isn't perfect. But it has managed to make itself very good in all of the departments: looks, driveability, comfort, and tech. Usually even the best in class come up short in one of these areas and just overpower the competition in all the others.
Start with looks. Sure, we're in an era where most luxury sedans are all cribbing from each other's notes, but there's a reason for that. People like what they like, and the current trend in design is quite popular. The A4 doesn't try to wow you with some ultra-sleek, over-thought lines. It's just a classy, well-styled car.
Same inside. We get all fluttery over the materials that Mercedes lays down inside their cars, but I've driven them all and the Audi isn't carrying anyone's water. It's a comfortable, luxurious interior.
Then there's the tech. With the redesign, the engineers made sure to do the most important thing an car engineer should do: Make the damned car's controls easy to operate while you're actually driving. Don't laugh – a lot of manufacturers never got that memo. Car reviewers are lucky we don't all die in fiery crashes while puzzling out the freakin' infotainment systems.
But I digress.
The Audi contr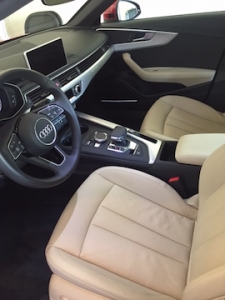 ols are intuitive, which means you learn quickly. And with the head-up display, you don't find yourself looking down all the time. Throw in easy-to-read graphics (and legible fonts) and you're on easy street. Plus, you'll be happy to know each car can communicate well with either your Apple of Android master.
As for the drive, the only complaints you might have are with the steering (which didn't perturb me, but apparently has sports enthusiasts less than thrilled) and the start-stop engine function at an intersection. Yeah, I guess it might slow you down for, like, oh, a fraction of a second on your way to get coffee. The pain, the pain!
I personally dug the drive. The new '17 model is lighter than before and has a lively turbo 4-cylinder. It's got some serious get-up-and-go. You won't blow a Hellcat off the starting line – but is that why you're buying a luxury sedan? No. No, it's not. Grow up.
And finally, some parting extras. The car has pretty good storage room, including average (for the segment) space in the back, along with a split-folding rear seat, and room for your junk up front.
The quattro all-wheel-drive is just what a Colorado driver ordered.
That aforementioned lighter design translates into better mileage, so your combined figures are around 27mpg. That's not bad.
All of that brings us home, and right back to the death-match with the BMW. What it comes down to is purely personal taste, because both cars are damned fine. Perhaps it's just the personal hankering I've had lately for Audis, but I'm going with the A4.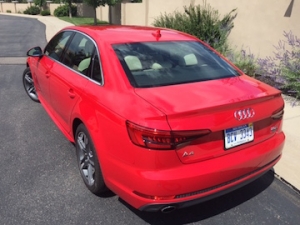 (At least until I drive the next 328.)
2017 Audi A4 Sedan 2.0 quattro
2.0-L 4-cylinder, 7-speed automatic transmission
MSRP:   $39,400
As tested:  $52,325
Fuel economy:   24/31/27 combined
Reviewed by Dom Testa
Vehicle provided by manufacturer