The updated Jeep Compass did what every car manufacturer should do. They took some of the vehicle's shortcomings and updated them. The result is a small cro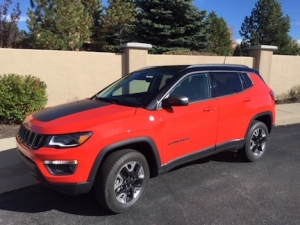 ssover SUV providing a good ride in the city but still satisfying your need to go off the pavement  during your weekend camping.
The '17 Compass improves both the ride and the interior, which in previous models was a bit subpar. It took a while to get these improvements online, though. Jeep actually sold the '16 version through the first few months of the 2017 model year, then phased it out halfway through and introduced the "new" model.
It's a step down from the Cherokee, but snuggles comfortably into the segment that includes the Honda CR-V and the Kia Sportage.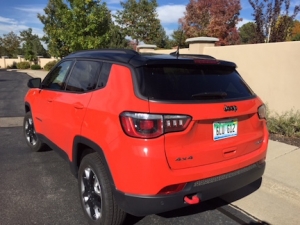 You get four trim levels to choose from, but they all come with a 4-cylinder engine producing about 180 horsepower. The most-affordable, the Sport version, comes with cloth seats. The high end Limited boasts a leather interior, 18-inch wheels, and makes all-wheel-drive standard. In fact, AWD is your only choice in the Limited.
In between those two trims you'll find the Latitude model. The fourth choice, the Trailhawk, is interesting. It's not as pricey as the Limited, but offers a better combination of design elements and options if you're gung-ho about your offroading.
The interior of the Compass has been improved. The leather-styled Trailhawk I drove is co
mfortable and roomy. Storage up front isn't as plentiful as I prefer, but the console is laid out well. Jeep's Uconnect system is easy to manipulate, and the screen's graphics are sharp and clear, and your favorite functions can be customized for a simpler experience.
The drive experience was where the Compass used to come up short, but Jeep tweaked it enough to bring it up to the standard that drivers want. Look, you're gonna get what you pay for – and the Compass is a fairly low-priced choice in the crossover/SUV world. But most drivers will spend the bulk of their time on paved roads instead of trails, and now the ride on civilized pavement is smoother and more responsive in the Compass.
When you do load the crew up with tents and sleeping bags, you'll have 27 cubic feet of space to work with. Fold down the 60/40 rear seat and that jumps up to about 60 cubic feet.
Passengers in the rear seats will be comfortable and unsquished. Perh
aps not a real word, but it fits.
This is a redesign that was much needed and will be warmly welcomed by Jeep fans. If you're looking for an affordable, competent city-and-camping crossover/SUV machine, it's worth a test drive.
2017 Jeep Compass Trailhawk
2.4L 4-cylinder, 9-speed automatic transmission
MSRP base: $28,595
As tested: $34,060
Fuel economy: 22/30/25 combined