Maybe it's b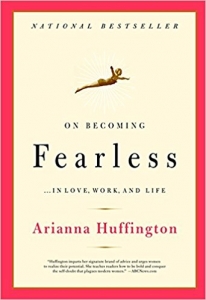 ecause I grew up a dude, but I never appreciated the badassness of my mom until recently. We lost her to leukemia when I was only 21, so I didn't get nearly enough time with her. But not long ago I sat quietly and thought about the difficult challenges she faced, and it dawned on me that she was fearless.
That's why this book stood out for me as a selection to start a new year. We can all define the word "fearless" through our own lens, I suppose, and that's fine. But what writer and business leader Arianna Huffington has done is collect stories and essays from a variety of women who share what fear has done to burden them, but also to inspire them to better things.
The book touches on fears that may seem familiar to many women, both young and old: Am I attractive enough? Do I have what it takes to be successful? Will people want to hear what I have to say?
Through first-person accounts and third-person observations, you're presented with new ways of dealing with fear head-on. In some ways it's an inspirational self-help book, and in others a gutsy collection of memoirs. But there's a good chance you'll find a voice that speaks to you, and hopefully gives you a boost to start this new year with an incentive to blast through whatever fears are holding you back.
Find it at any location of The Tattered Cover Book Store. If you mention Dom's Book Club, they'll happily shave 20% off the cover price for you.