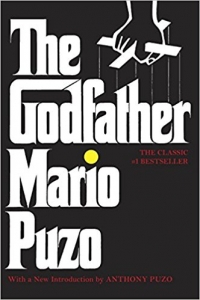 This past December I rented a car and took off on a long road trip, a journey that covered about 3400 miles. Usually I'll download several podcasts to listen to over a drive, but this time I wanted an audio book. And with that much time to fill, it could be an epic story.
Perhaps you've seen the classic film version of The Godfather – if not, stop reading this and go watch it immediately. But there's also a good chance that you've never read the original novel. I hadn't, and I love the movie. So that was my choice for the road trip.
The book is just as riveting as Coppola's film. Although the movie didn't stray far from Mario Puzo's original vision, the book has the luxury of expanding the story and – most importantly – the characters.
A gripping tale of power, passion, and family dynamics, The Godfather takes you inside an Italian mob family and shows you the tension not only between the family members, but also the drama taking place with rival mafia families.
It's a fast, entertaining read, and it will heighten your appreciation for the entire film trilogy. Pick up The Godfather at your nearest Tattered Cover Book Store location, and you'll get 20% off this title when you mention Dom's Book Club at check-out.
Enjoy with a side of pasta and vino.