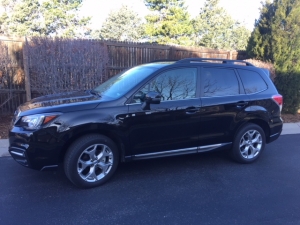 We have seen the future of driving in America, and it appears (for now) to come in three forms:
Self/Auto-Driving vehicles (I'm a big fan)
Sharing services (Uber/Lfyt/WhoKnowsWhatsNext)
Roads and highways populated with SUVs and trucks (Ford is the first to basically throw in the towel when it comes to sedans)
Let's focus on that last segment. In a world (wow, I sound like a movie announcer) where everyone drives a utility vehicle, the competition will get bare-knuckle-nasty in both the luxury arena and the affordable crowd.
Subaru is going for it in the latter game.
And look, the field is already pretty crowded when it comes to compact SUVs. Honda's CR-V and Toyota's RAV4 aren't going to roll over for anyone, and Hyundai is pretty proud of the Tucson.
But Subaru has decades of success to lean on. It was only a few years ago that Motor Trend bestowed the SUV of The Year award on the Forester, and nobody at Subie seems to be resting on any laurels.
The Basics
Last year's Forester got a fair number of updates, many of which were overdue. What you're sure to get, though, is a strong, reliable vehicle that can handle any off-road duties while managing very well in the city, too.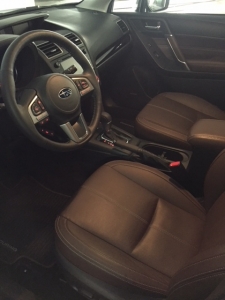 In fact, Subaru's attention to off-road comfort and maneuverability actually means a better ride when the tires find pavement. I drove the Forester for a week and was impressed with its smooth but potent ride.
You can choose from several trim levels, ranging from the base 2.5i up to the 2.0XT. The 2.5 refers to the engine (2.5-liter). Yes, the XT sports a smaller power plant size-wise, but more than makes up for it by turbocharging it. For the record, I was behind the wheel in the 2.5i Touring edition, which meant a few upgrades.
The good news, though, is that Subaru makes all their Foresters with standard all-wheel-drive. That's one of the reasons they're so popular in Colorado. Well, that and their above-average ground clearance, an area where they handily beat the competition.
The Drive
My 2.5i Touring delivered 170 horsepower, but acceleration was never a problem. The Forester is peppy enough off the line, and handles itself well in steering and overall handling.
Outside, the design is sleek and stylish. Subarus are very identifiable on the road, with their own "look." It's an attractive ride.
The Inside
Inside you'll find a c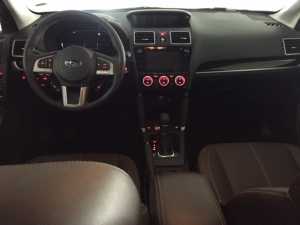 omfortable, if not overly-luxurious cockpit. I liked the feel of the seats and appreciated the great visibility – a result of good design and the aforementioned ground clearance. It's near the top of the list for many people when choosing an SUV: "I want to be able to see everything going on around me."
The engineers put their pencils to good work when it comes to roominess. Regardless of whether you're in the front or back, you won't feel squished. I'm 6-feet tall and had no problem in the back seat.
That roominess applies to storage, as well. Up front you'll be happy with the door slots and the center console. Fold the rear seat and an already-good cargo area expands to almost 75 cubic feet. Again, this is why people are opting out of sedans and glomming on to SUVs.
The Tech
In this department the Forester is mostly just adequate. The 7-inch display screen is relatively easy to operate, although I wish they had more controls as easy to access as the climate, which makes use of rotary knobs. Love those, actually, and would always choose them over multiple screen commands just to turn up the danged fan.
Some will bemoan the lack of Apple CarPlay and Android Auto, but if you can get past that you'll be satisfied with traditional connectivity. My Touring edition comes standard with the ever-popular backup camera and Subaru's EyeSight system, which provides lane-assist, rear-traffic alert, and blind-spot warning, among other things.
And, just for fun, find a Forester with the panoramic roof. They're just cool, whether you're a driver or backseat driver.
The Bottom Line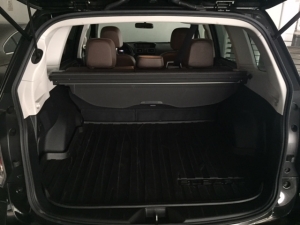 As a moderately-priced competitor in a furious market, the Forester stakes a claim as one of the better buys. It's a solid choice at a good price, from a car maker that knows the compact SUV segment – and has the trophy to prove it.
Besides, if you live in Colorado, just look around. Subaru has a legit claim to unofficial state vehicle. There's gotta be a reason, right?
The Details
2018 Subara Forester 2.5i Touring
2.5-liter 4-cylinder, CVT (continuously variable transmission)
Mileage: 26/32/28 combined
MSRP: $33,090
As tested: $34,005
Reviewed by Dom Testa
Vehicle provided by manufacturer