Gretchen devoured this book in just a few days, and it seems she's in good company. Kristin Hannah has quickly built a legion of followers with books that grip you with a terrific story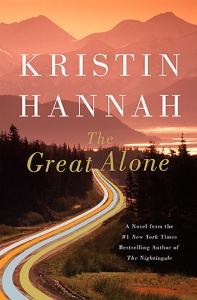 and fascinating characters.
In this novel, the setting becomes a character all its own. Set in Alaska in the 1970s, The Great Alone tells the story of a family looking for a fresh start. In an attempt to truly get away from it all, Ernt Allbright seeks to escape the horrors of his stint in Vietnam by taking his wife and daughter to the wild frontiers of the Kenai peninsula.
With mountains draped by glaciers, the backdrop of this story is beautifully described, and the harsh winter conditions practically ooze out of the pages.
Along with severe climatic changes, the Allbright family contends with the frightening changes that Ernt has endured. This is a story of a mother and daughter coping with domestic violence. Then young Leni finds herself involved with Matthew, a relationship that began as friends at school, but blossomed into romance.
Critics rave about Hannah's ability to capture the pain and fear in these family dynamics. Some mention that it's "emotionally wrenching," and Gretchen agreed with that sentiment. She offered this advice: "Make sure you're in a pretty good place yourself before you dive into this book."
It's the selection for June because Kristin Hannah can flat-out write. Pick it up at The Tattered Cover Book Store. If you mention Dom's Book Club, they'll take 20% off the price of this title.
Thanks, and enjoy.
Dom