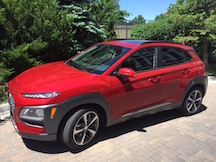 A few years ago I spent about ten days in Hawaii, not for a beach vacation but rather an educational expedition. The majority of that time was spent on the Big Island, where we hiked through lava tubes, visited the Keck Observatory, and took a 3am boat ride to watch the brilliant red volcanic magma flowing into the ocean.
The only souvenir I brought home from that ten-day outing was a T-shirt from the Kona Brewing Company in the town of the same name. Yes, there was enough down time between hikes to learn a bit about Hawaiian beer. I got an A+ in liquid aloha, dude.
Naturally I now have a fondness for anything Kona. When I heard that Hyundai was introducing a new crossover vehicle with that name, I had to give it a shot. Here's what I discovered in six days behind the wheel.
The Basics
The Kona joins a family of already-popular SUVs in the Hyundai stable, and by some sort of law they must all be named after towns. The Santa Fe has always (in my opinion) been a great vehicle, and the Tucson is a reliable sibling.
But if you're looking to go a touch smaller than those two, the Kona is a good choice.
The exterior styling is jazzy enough to make the car stand out in a crowded parking lot, thanks to a designer who used to do the same for BMW. I mean, there's only so much you can do to make one car look significantly different from another, but we know certain companies that have gone the other direction and put out some butt-ugly boxes. The Kona looks sharp.
Inside is where it gets a little tricky. Given its price point, the Kona's seats give a respectable dose of comfort. You won't melt into the driver's seat, but I think the materials quality is pretty good. The front passenger doesn't have as many seat control options.
In the rear, legroom isn't terrific – we'll be generous and call it average. If your driver is above average in height, the person behind them will just have to cope.
The last few cars I tested had fairly crappy blind-spot visibility, but the Kona gets decent marks for that.
Because it's a crossover/compact SUV, you'll be expecting storage space, no doubt. Again the Kona won't knock you over with space, but it's pretty good. In the way-back you'll find about 19 cubic feet for your toys, expandable to 45 cubic feet when you drop the 60/40 split rear seats. Some of that is beneath the cargo area's floor panel.
The Drive
The drive was adequate given the power plant. The base SE and SEL trim levels run on a 4-cylinder engine providing only about 147 horsepower. The Ultimate version I drove – as well as the Limited – uses turbo power to bump that up to 175 horses.
I never jumped off the starting line, and, indeed, acceleration seemed a bit lacking to me. But if you have no designs on drag racing in your crossover vehicle, once it's rolling the drive is smooth and easy.
One note: While stopped on a hill at a red light, the Kona gave an indication of stalling when the light turned green – the sort of thing you'd expect from a newbie driving a manual transmission. But with an automatic? I chalked it up to a fluke. I have no idea what the startled driver behind me chalked it up to.
Your options d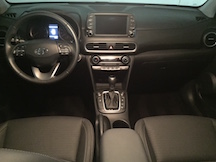 o include all-wheel-drive, so Colorado drivers will rejoice. However, ground clearance isn't huge (a little less than 7 inches), so this is a case of AWD helping out city driving in the snow more than chugging off-road over a treacherous mountain pass.
The Tech
Regardless of the trim level you choose you'll get Hyundai's infotainment system. I liked the touchscreen controls, with everything intuitive and easy to use.
Tech fanatics will like the Apple CarPlay and Android integration. Other goodies like navigation, Blue Link service, and voice recognition allow the Kona to play with the big kids.
Even basic controls, like sound and climate, perform well. If you step up to the Ultimate trim level your touchscreen steps up as well, to 8 inches.
The Bottom Line
Since I've been a fan of the Hyundai Santa Fe I probably went into this review will a bias in favor of the new Kona. By no means was I blown away by it, but for a fairly-loaded Ultimate model it also stays below the $30k mark.
Throw in good gas mileage for a non-hybrid crossover/SUV, and the value increases.
That's a good price point and makes the Kona more than just a player in a competitive segment. And since it's only Kona's first year in the game, I think we can expect vast improvement in the years to come.
The Details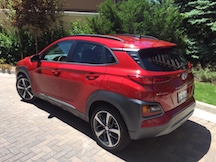 2018 Hyundai Kona Ultimate AWD
1.6-L turbocharged 4 cylinder, automatic transmission
MSRP: $28,700
As tested: $29,775
Fuel economy: 26/29/27 combined
Reviewed by Dom Testa
Vehicle provided by manufacturer