There are certain logos that trigger specific associations. You see the mermaid logo and you think coffee. When you spy the gold-colored arches you think fries and special sauce. Catch a glimpse of the Mix 100 logo and you can't help but think of the greatest morning radio show of all time and dimension.
Still with me? *snicker
So when you spot the Mercedes star on a front grille you think sporty luxury vehicle. That's why driving around in the 2500 Crew Van was a hoot during the last week of June. I've test-driven a couple dozen Mercedes vehicles over the years, and while I tooled down the road in my van I began to hum a Sesame Street song: One of these things is not like the others.
The Basics
Okay, so we don't automatically equate the German luxury car maker with hulking cargo vans, also referred to as light commercial vehicles. But in all fairness, the early Daimler company introduced the first truck in the 1890s, and the Benz folks created the first bus (or motor coach, as they called it). So the genesis of the company included large (for their time) machines.
Fast forward to the 21st century and you get huge cargo vans with the star out in front. You'll find this van in three different trim choices, ranging from the Cargo design – basically two front seats and a cavernous open space behind – to the Passenger, which holds about a dozen folks.
In between is the version I drove, labeled Crew. This gives you the two front seats and another row behind which holds three adults. That still leaves a tremendous amount of storage room in the back.
If I was going to drive this big van, I wanted to use it for what it was designed for. I mean, driving this thing to the Buell Theater doesn't quite fit.
I had to haul lots of boxes, tables, and a tall ficus tree across town, so I rolled up my sleeves, found a place outside my building where the 2500 actually fit, and got to work.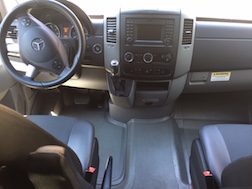 The Drive
Now you'd think a beast of this size (more than 8500 pounds) would be somewhat lumbering in its drive. I was pleasantly surprised. The diesel engine under the hood provided adequate power, if not a ton of get-up-and-go. But, of course, I never expected to take it to Bandimere.
And darned if this 4-tons-of-fun isn't pretty nimble. I finally understood the nickname for this van. They call it The Sprinter, a term that's been around since the mid-90s. Sure, it's mostly tongue-in-cheek, but it's a cool marketing strategy. It's like describing a 320-pound offensive lineman as a sprinter. I like it.
The drive is relatively smooth given what you're working with, and I was able to maneuver it through spaces smaller than I imagined
when I first saw it. True, finding a space to fit the Sprinter isn't that easy – in my building it wouldn't fit in the parking garage, not because of its length or width but it's height. It's truly the Manute Bol of the van world. (Look him up.)
The Inside
Are the seats comfortable? Well, let's call them quite satisfactory. Obviously when you sit up at an altitude that almost rivals a semi, you've got great visibility. Hauling yourself up and in requires an effort, but once you're in the driver's seat you feel rather invincible.
The layout of the cabin is good, the dashboard works well, and I personally loved the handy-dandy storage compartments above the sun visors. These are great places for paperwork, sunglasses, and other assorted items that you want quick access to.
I suppose you'd have to describe both the front and back seats as spacious. I mean, the van is designed for just that reason. By the way, entry for your backseat passengers is a breeze with the sliding side door that spits out a step known as an Extended Track when opened. It definitely helps climbing aboard.
The Tech
For this day and age you'd have to call the tech choices pretty basic. You get Bluetooth connectivity, but nothing (as of right now) for fancy phone interfacing.
There are some good options, however, if you snag the Active Safety Plus Package, and why wouldn't you? That adds Parktronic, blind-spot assist, lane assist, and heated mirrors.
The Driver Efficiency package adds the much-appreciated backup camera and nav.
The Bottom Line
This vehicle is built for one thing: hauling. So I hauled and I hauled. I made multiple trips with a variety of items in the back, and it ran and worked like a charm.
As goofy as it may seem, I developed a bit of a crush on this oversized lug. It scooted around town as if it had no idea it was a giant. It ran smoothly and simply got the job done. Quite charming, actually.
If your busines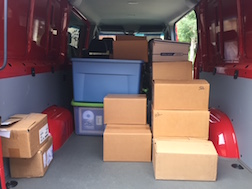 s requires a sturdy, reliable van capable of carrying loads and loads of passengers or stuff, take a look at the Sprinter.
The Details
2017 Mercedes 2500 Crew Van 144 (Sprinter)
MSRP: $41,495
As tested: $60,450
Reviewed by Dom Testa
Vehicle provided by manufacturer