Let's just get thi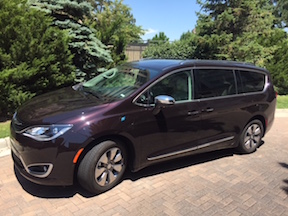 s out of the way up front, okay? I drove a minivan for a week and loved every minute of it.
Sure, you can suspend my man license for a month and snicker behind my back. Yeah, I'm the guy who raves about the various sports car I review (as I write this a Mercedes convertible is in my garage for the next week) and I have no small children to tote around town.
But I loved the minivan. So there. Now let's break it all down.
The Basics
Keep in mind this particular Pacifica was the hybrid version. The vast majority of features I'll cover apply to both the traditional gas-only model and the hybrid, with just a few exceptions. (There are multiple trim levels of the non-hybrid version if you insist on only burning fossil fuels in your transportation.)
I'm a hybrid guy, though. My own personal vehicle is a hybrid, and once you get spoiled to 38-40 miles per gallon it's hard to go back. The Pacifica doesn't quite hit those numbers, but its 32 mpg is fantastic for a minivan. Just try to beat it.
But wait, it's not a simple hybrid, but rather a plug-in hybrid. The idea is that you'll run almost entirely on electric power unless you need some added oomph around town or on the highway, and the battery should last you a little over 30 miles. After that the engine kicks in and you switch over to gas power.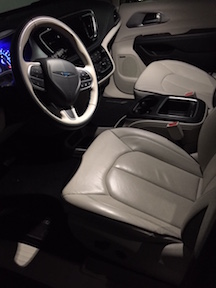 And then? Well, you get back home, plug your Pacifica in and let 'er charge. From drained to full should take you 12-14 hours if you're using a standard garage plug. A 220/240-volt outlet would be much zippier, probably less than two hours.
Combining both gas and electric produces 84 mpg(e).
The Pacifica replaced the legendary Town and Country, which had a good run. As for exterior appearance, there's only so much you can do to dress up a minivan. But Chrysler has done a nice job of rounding some edges and applying a nice glaze to the standard family truckster.
The Inside
Here's where the Pacifica shines, in my opinion. It's like an apartment on wheels. You can store all your stuff and all your people in one trip.
It's such a comfortable way to navigate. In fact, I was planning a long road trip and hoped to take the Pacifica just to motor along like a king. I may not have come home.
As y
ou can imagine the space is, um, spacious. Plenty of room to spread out, and loads of storage up front to keep your phones, keys, books, anything. That includes large cup holders. You think that's silly? How many times have you tried to put a drink in one of those smaller-sized holders and cursed?
The dash layout is well positioned – although in the hybrid model the displays and gauges are different from what you're used to. But I like the design. The sliding rear doors, by remote control even, are on both sides. That makes for easy access for your passengers no matter where you're parked.
The Pacifica is known for its super-cool folding seats, not just the way-back third row, but the second row, too. And I mean they fold completely flat, producing loads of space. This, however, is where you get one of the trade-offs for having the hybrid. Unlike the traditional gas model, in the hybrid only the third row folds flat. In this model you can still remove the second-row seats if you grunt and maneuver.
Not only do you get a large sliding sunroof for the first two rows, but check out the additional sliding sunroof in the way-back to help people feel less claustrophobic. Oh, and the hands-free power lift gate is a treat, too.
You might have preconceived notions that minivans are all sluggish beasts, but that's just not fair. No, I didn't drag race anyone in the Pacifica, but it was fine getting off the line.
The ride itself is smooth and comfortable. Maybe not quite as quiet as you'd like, but certainly not bad. With the added weight from the hybrid setup, it handles well in turns.
The Tech
This is another area where the Chrysler shines. I like the Uconnect system with its 8.4-inch screen which actually operates as a swipe screen. Cool. Many of the most-often requested buttons are right there at arm's reach.
There's good connectivity, Bluetooth works well, and you'll happily note that both Apple CarPlay and Android Auto are standard. Blind spot monitoring and rearview cameras also are standard, and you can add the 360-degree view if you choose. You should.
There's also voice control, which will soon be ubiquitous in cars. With the Pacifica you have it now.
The Bottom Line
I know, I'm a red-blooded American male and I'm not supposed to gush about a minivan. But too bad. The Pacifica combines practicality, ease of use, comfort, and a nice drive. That's good enough
for an A review, right?

The Details
2018 Chrysler Pacifica Hybrid Limited
3.6L V6 eHybrid engine
Mileage: 84 mpg(e), 32 mpg gas only
MSRP: $44,995
As tested: $48,580