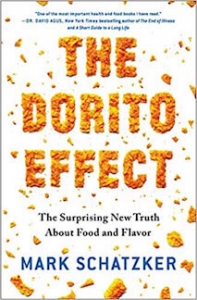 For years we've heard all sorts of explanations about why our country is sagging under an epidemic of obesity. Some have blamed carbs, or fats, sugar, wheat, and on and on.
Mark Schatzker says we've got it all wrong. The Canadian-based journalist proposes that we've drained all the flavor out of our mass-produced food and replaced it with lab-grown flavors.
Combining history and scientific research, Schatzker explores the long road that brought us to the ultimate expression of manipulated taste (the Dorito) and how things may be (hopefully) changing.
Jeremy recommended this title for the book club. If you enjoyed other food-related volumes, such as Fast Food Nation or Salt Sugar Fat, you might find this equally interesting.
Although, let's face it, once you read books like this you never look at – or taste – foods the same way. Maybe that's a good thing.
The Dorito Effect can be found at your nearest Tattered Cover Book Store. Mention Dom's Book Club and you'll save 20% off this title. Enjoy!