I'm always curious about the new cars I test drive (more than 200 of them through the years) but there was an extra helping of interest in this car.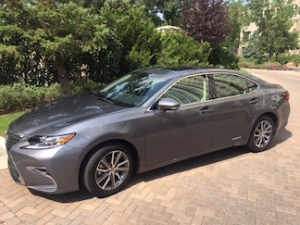 I happen to drive a '13 ES300h as my personal car, and I jumped at the chance to see what has transpired in the last five years.
The answer: Not too much. And that's actually a good thing. Lexus has done just enough to spruce up the hybrid while keeping the charm and environmental economy intact.
The Basics
It's been fun to see all of the fuel-efficient hybrids pop up in the last decade. I remember when we all gave an amused glance at the Prius and some of its hybrid brethren and wondered if they were going to be short-lived experiments.
Thankfully, no.
It's also nice to know you can opt for this fuel-sipping option (my '13 model delivers around 36-38 in everyday driving and this '18 version ups that by just a few) while cruising around in luxury and comfort.
You don't ge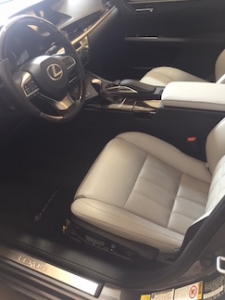 t multiple trim levels to choose from, but, frankly, you don't need them. Instead you can shop among the multiple options to dress up your ES300h.
The Inside
There's a roomy feel to the car, including the rear space for passengers, and you'll enjoy the usual Lexus attention to comfort and style. An already first-class ride, the latest design touches create a soft-spoken elegance.
I like this particular marriage of wood and stitched leather. The dashboard delivers an eye-friendly appearance – and if you've driven a few cars you know what that awkward phrase means.
Small storage up front is average at best, but suitable. It's the trunk space where the ES shows off, with a very large compartment compared with other hybrid choices. Granted, with the hybrid setup you sacrifice any chance of folding rear seats or a pass-through, but you're starting with great space to begin with.
High marks to the ES for sight lines, too. It's one of the things I've appreciated about the car for years: great visibility.
The Drive
Your feel for the ride of any hybrid likely depends on whether or not you've spent time with them. It's not fair to jump inside for the first time and expect a Ferrari-like experience.
But, having said that, Lexus comes from a family of car-makers (Toyota) that have helped lead the charge (no pun intended) toward gas/electric vehicles. In other words, they know what they're doing.
Most of the time you press the accelerator the ES300h will rely on its battery to get the car moving, and in a relatively-zippy fashion. When you require more oomph, the gas engine will subtly kick in. I say subtly because it's a seamles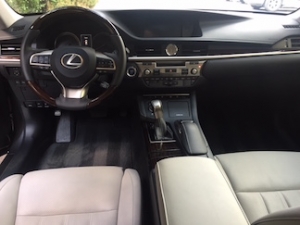 s, smooth process. I've had passengers who couldn't tell when the transition took place. That's a win.
The drive is equally smooth, maneuvering over bumpy city streets like a champ. Steering is silky, as well.
The Tech
I like the display screen in the '18 version of the ES300h. Mostly intuitive, it has its minor drawbacks, but the look is sharp and the functionality is good.
I've found that the majority of mouse-action in cars, no matter how expensive or luxurious, leave a lot to be desired. My impression is that they've been foisted upon us almost in a practice mode, like the car manufacturers are forcing us to use them while they get it right. They just haven't got it right yet. Perhaps when it finally clicks we'll all be grateful we were their guinea pigs.
Lexus wants you to download their Enform App Suite in order to work with many programs.
The sound system is above-average, but something I'd think Lexus would pay a bit more attention to.
The Bottom Line
In a way thi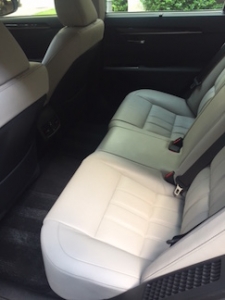 s test drive was good for me. It reinforced my love of the ES300h, and showed me that Lexus continues to refine the great product they have.
You'll get a superior ride, surrounded in style and luxury, while you do your part to help save the planet.
The Details
2018 Lexus ES300h
2.5-L in-line 4-cylinder with high-output permanent-magnet electric drive
Electronically-controlled CV trans mission
Mileage: 40/39/40 combined
MSRP: $41,820
As tested: $51,129