First of all, let me state right up front that this is one gorgeous car. Super cool on the outside with great lines and a badass front grill. I chuckled when I saw that grill, because it's a luxury car that looks like it wouldn't mind rolling up its sleeves and getting into a fight.
But make no mistake, the LS is no brawler. It's a sophisticated ride that pampers you and makes you wish the ride was ten-miles longer.
I took a 2100-mile road trip a month ago and would've been in heaven if I'd been rolling along on these four wheels. But, alas.
The Basics
Yeah, it's a big car, tipping the scales at more than 5,000 pounds. And every one of those pounds is delicious.
With a considerable redesign to replace the LS460, the 500 places Audi and BMW on notice that it won't shy away from a luxury-sedan showdown.
The twin-turbo power plant explodes with more than 400 horsepower, and you'll have to control yourself on the highway to make sure you don't look down and see the speedometer creeping up to 90.
Somehow it's refreshing to write about a car that doesn't offer several trim levels. I've written blog posts about how we often have too many choices in life. Lexus is confident enough with the LS500 to make it one-and-done. But what a great one.
The Inside
You'll be surprised, given the low-slung appearance of the car (and it is lower than its predecessor), that it's deceivingly roomy and comfy inside. Yeah, they'll tell you it's a five-passenger sedan, but I never felt like the middle rider in the back had that much room. Let's call it 4-plus.
But I couldn't stop admiring the design of this interior. It's like Lexus contacted some art students and asked them to let their imaginations create a luxurious look that also dripped with sexy coolness.
At one point my passenger noted that it was almost a distraction. And I can see why she said that. It's an unusual combination of wood and metal, crafted in twisting waves and blended styles.
After considering it for a few days I realized I liked it more because it defied traditional luxury car interior design. I don't recall seeing a more visually-stimulating car interior.
The backseat is cavernous. Storage upfront is impressive and the trunk could hold an elephant.
The Drive
I won't insult your intelligence by overly-describing a Lexus ride. It smothers you in smooth, quiet joy.
(Disclaimer: I drive an ES300 as my personal car, so I'm a fan of the way a Lexus rolls down the road.)
The new '18 LS500 ditches the V8 engine of past models and puts all its chips on the twin-turbo V6. I won't lie: I didn't miss the V8 at all. The power output is just as thrilling, and the Lexus brass swears the sweet beast can move from standing to 60 in 5.3 seconds.
Steering is silky-smooth, handling is perfect, and that's all there is to it.
The Tech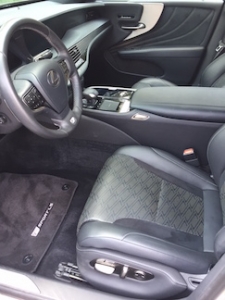 The dashboard itself is bright and eye-appealing. The controls are laid out fine, but tech-wise I can't say I'm crazy about the mouse control for the screen.
Even trying to change stations took a touch more effort than should be required, and the sensitivity was either too much or too little. Sometimes a bit frustrating.
On the flip side, at least the climate control is accomplished with button and scroll knobs. Thank goodness for some old-fashioned ease.
I'm sure there's a way to disable the beeping of the car when you throw it into reverse, and I would suggest you make that a priority when you take it off the lot. (Someone will likely yell at me for suggesting this. Sorry, I hate any car that nannies me.)
One thing I have to mention is the surround view. It's a rotating, 360-degree camera swing that lets you check for kids, pets, bicycles, or whatever. It's one of those tech toys you instantly miss when you go back to your own car. Truly one of the coolest safety features anywhere. Can't wait until it's ubiquitous in cars.
The Bottom Line
Well, the actual bottom line is sobering. As driven (including options) this is a 6-figure car. But it solidly nestled its way into my top-three of cars driven in the past year, through its comfort, ride, and aggressive styling.
What Lexus has done is take a car that was always luxurious and a joy to drive and infused it with some sex appeal. Th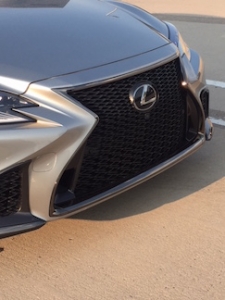 ey aren't shy about asking a healthy sum for their efforts – and they shouldn't be. It's a winner.
The Details
2018 Lexus LS500 4DR Sedan
3.5-L Twin-turbo V6
10-speed sequential automatic transmission
Mileage: 19/30
MSRP: $81,000
As tested: $101,675