I only had the Mercedes convertible for six days, but it rained for three of those. I felt like I was in an Alanis Morissette song.
During those moments when the sun fought its way through, I got the top down asap and took in the experience.
Because that's what this E400 Cabriolet is: an experience. It's a fun ride that would make any road trip pleasurable, and even soothes the irritation of an emergency trip to the grocery store.
The Basics
When they redesigned this E-class car, it seems the first order of duty for Mercedes was to add some roominess. In this respect they succeeded, adding a few inches both in length and width. No, you won't fit a pro basketball team inside, but I managed to cart around an adult in the passenger seat and two teens in the back with comfort.
With a 9-speed automatic powered by more than 320 horsepower, the E400 has more than enough gumption, unlikely to ever be embarrassed off the starting line. You can opt for rear-wheel drive if you live in a warm-weather climate or only intend to make this your fair-weather plaything in Colorado, but my 4Matic delivered crisp power to all four wheels.
Obviously one of the big draws for this car is the retractable hardtop. It stows away nicely (and quickly) in the trunk without taking up all of the space. True, you'll sacrifice some room for a collection of large bags, but during my week I hauled around several boxes in the trunk and managed well.
The Inside
Well, c'mon. It's true that you'll naturally find some differences between the E400 and some of the upper-tier S class machines, but, honestly, not much.
For the driver, you're tucked into the cockpit like a fighter pilot, snug and comfy. The seats feel like they were made for your specific body. I don't know how they engineered that perception, but it's a treat.
I loved the dashboard display, with a center screen that's bright and sharp. The leather stitching on the seats and the dash/side panels is exceptional.
Storage upfront is acceptable, again considering the size of the car.
My backseat passengers reported a comfortable – if somewhat windblown – ride with the top down on the highway. But they also refused to consider putting it back up, so that tells you something.
Overall, you're nestled in a luxurious embrace, the kind that makes each trip a delight.
The Drive
The above-mentioned power from the V6 is smooth and reliable, providing more than enough confidence when you need a spurt on the highway.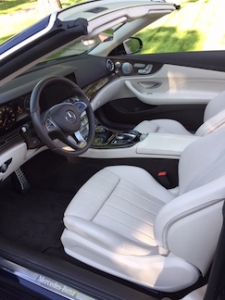 I loved the touch of the steering, and the handling is as sure as you'd expect from the German designers. The adjustments for both front seats allow for any position you can imagine – well, that I could imagine, at least.
Comfort-mode seemed to be my choice while puttering around town, but during those stretches on twisty roads I couldn't help but switch over to the Sport setting.
The Tech
Let's start with a fun little inclusion for those who like to keep the top down during cooler weather. After a bit of patent-haggling, there's a feature called Airscarf that's back on the convertible. This will softly caress the back of your neck with warm air through headrest vents.
No word on if Mercedes will work on a chilled version for hot summer months, but this is a great feature.
I'll always grumble about the insistence of luxury-car makers to include mouse-like devic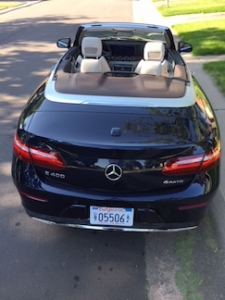 es to control basic tech features. In my opinion it's almost a stubborn resolve to force us to like these things, and, granted, some people love them.
I find them distracting and overly-gimmicky. Given the choice of mousing a display to adjust something versus touching one button/knob, I'll go analog. But I'm not going to win this fight.
The E400's gadgets are easy enough to master, if still requiring a few seconds more to play with.
The Bottom Line
You can spend much more for a luxurious Mercedes experience, but the E400 (while not cheap) will pamper you plenty.
The luxury 4-seater convertible field isn't crowded, and the E400 stakes its place as a solid choice. With its power, smart/sexy drive, luxurious interior, and gorgeous exterior lines it will easily beckon those who are ready to step up to a fun ride that oozes success.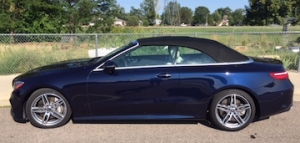 The Details
2018 Mercedes E400 4Matic Cabriolet
3.0-L V6, 329 horsepower
9-Speed Automatic, permanent all-wheel-drive
Mileage: 20/25/22 combined
MSRP: $68,800
As tested: $89,735