It's almost a no-win situation if you're Lexus. Hard-core enthusiasts will always expect yearly updates in order to feel like their vehicle is cutting-edge. But what do you do if you're Lexus and there's really no improvements to be made?
Do you change things just to seem "fresh" and risk screwing up a good thing? Or do you play your hand as it was dealt and have faith in the results?
That's the story with the RX 350, a luxury SUV that chose the latter option. The 2018 basically changed nothing because Lexus didn't need to. Their big makeover debuted in 2016, and since then they've been quite happy with their elegant – and remarkably popular – ride. If someone squawks, well, I gotta believe that's the person you can never please.
I personally know a handful of people who drive the 350, and I asked them to list the negatives – and I did this before I got behind the wheel. They each looked at me like a dog staring at a fan. A negative? With the RX 350?  Then they asked about lunch.
The Basics
There are two trim levels of the 350, the Base model and the F Sport. For the record, I drove the F Sport for a week. Both are graced with a 3.5-L V6 and front-wheel drive, although you can opt for all-wheel-drive on either. Mine w
as AWD.
The F Sport shows off a bit more with sleek exterior styling, but that doesn't mean the base model is homely. In fact, one of the reasons this SUV sells so well is the fact that it's one of the more attractive sport utility vehicles on the market.
Option packages generally come in clumps, but you'll find a few a la carte selections, too.
The Inside
Pure heaven, really. I think the designers at Lexus are smart enough to know that their typical buyer isn't going to be driving the RX 350 over many rock-strewn mountain passes, or taking it across shallow river beds.
No, you'll spy the vast majority in school car-pool lanes and at the mall. (Oh, sorry, I mean the retail resort.) This means it's an SUV intended for comfort and style, a car that's meant to be seen as much as it's meant to be driven. The engineers succeeded.
Inside you get plush seats that embrace you in leather, with smart heating and cooling options. The materials get their usual A+.
It's an eye-appealing cockpit, to be sure. I tried absorbing the angles and connections for a while, then quit trying to categorize it and just enjoyed it.
The Drive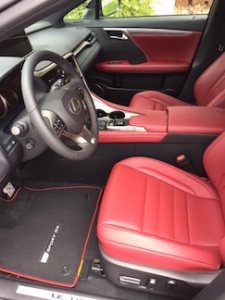 Remember that "I'm not taking it across river beds" process from earlier? That probably applies here when it comes to rating the overall drive.
Every Lexus will have a smooth, quiet ride, and the 350 is no exception. Hard-driving gear heads might ding a few points here and there, but you'd have to really nit pick.
I found the steering precise and smooth, the handling/turns exceptional, and the overall road-feel above average.
The acceleration on the highway surprised me a bit (in a good way) and I never felt a lack of power.
The Tech
The F Sport is appointed nicely with standard features, including safety stalwarts like a pre-collision system, intelligent high beam headlights, lane departure warnings, and a backup camera.
The sound system is above average, and although Apple CarPlay has been absent, Lexus announced that as of September of this year it'll roll out in the ES model. That's a start.
As a whole, the infotainment system screen is okay, but Lexus still hasn't mastered that Remote Touch controller. I continue to find it touchy and overly sensitive, not to mention a potentially dangerous distraction. Having to fiddle with screens while on the fly seems contrary to everything we're trying to correct in the driving world. I'm not the first to notice this, but I'm still the president of the go-back-to-buttons fan club.
The Bottom Line
The competition in this luxury SUV category is intense. Auto makers know that this is not only where the money is but also where the hearts of Americans have gone in the past few years.
People love the ability to sit a little higher and haul a little more, but they also like doing it in comfort and style. Plus, let's just tell it like it is: People make a big deal out of the status symbol of the car they climb out of. Lexus has a hit on their hands with the RX 350 and, since the redesign a couple of years ago, they've haven't given anyone a reason to stray.
For the money – even though it's a sizable chunk of cheddah – the Lexus RX 350 is a solid competitor to the Audi/BMW/Mercedes crowd. Between the elegant interior and the great drive it's one of the better choices you can make.
The Details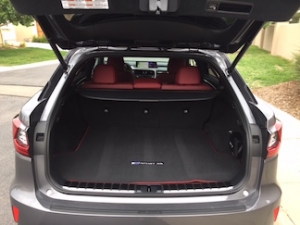 2018 Lexus RX 350 F Sport
3.5-L V6
8-Speed automatic transmission with paddle shifters
Full-time all-wheel-drive (optional)
Mileage: 19/26/22 combined
MSRP: $50,320
As tested: $59,345