It seemed easy enough. You ask your significant other to grade you in ten categories. So Jeremy and I gave it a shot.
He sent the list to N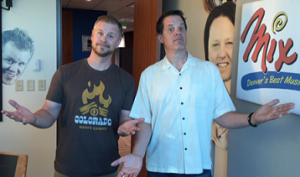 icole and I sent it to Gretchen. Their instructions were simple: Be honest.
Oh, boy.
In some categories we scored higher than we expected, but we also were surprised to get dinged in areas in which we thought we'd excel.
Here are the ten categories and the grades we received. We believe in full disclosure, no matter how painful.
Making an effort with your partner's family and parents.
Nicole gave Jeremy a C, and Gretch gave me a C+. In parenthesis she said "To be fair, they started it."
Romance overall
I got a B+ and Jer received an A. Hmm.
Being spontaneous
Here Nicole gave Jeremy a B and I got a C, which surprised me. Gretchen added "but thank God for that." She's a planner.
Listening
We both got bad marks for this, and I was again quite surprised. At least my C+ was better than Jeremy's E. Which is now a letter grade.
Humor
We both pulled A's on this one.
Cleanliness
Again, a couple of A scores. We are at least very neat at home. That should be worth something.
Sex life
Jeremy was given a B by Nicole, but she also added that having two young kids played a factor in that. I have no young children around and I'm happy with my A.
Overall foreplay skill
Look, we don't wanna brag, but we will. Both Gretchen and Nicole were generous with A+ scores for your boyz in the morning.
Patience
I got a B, Jeremy got a C. Are we almost done with this list? (get it?)
Taste in movies and television
Our worst scores. Gretchen, who always rolls her eyes at my movie choices, handed out a D. Jeremy had it worse; Nicole created a new grade again and gave Jer-Bear a W. (We'll call it an F for the GPA.)
That gave Jeremy a GPA of 2.73, and I managed a 3.02. Let's just say we were cut down to size a bit.
My recommendation is that you NOT discuss the grades with your s.o. after you receive them. It's a chance to simply reflect and quietly go about improving. Unless it's number 8 on the list. How do you improve on perfection?
Ha!