I imagin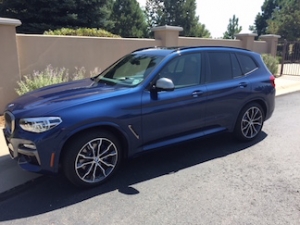 e the meeting that took place around the boardroom table at BMW headquarters. One of the big-shots said, "I think we need to tinker with the X3 and make it handle more like one of our badass sport sedans." Then he raised an eyebrow, daring anyone to say it wasn't possible.
The engineers looked at each other, then down at their notepads, and nobody uttered a word. "Good," the executive said. "Get to it." Then he grabbed a bagel and strode out of the room. "Oh," he said, poking his head back in. "And make it fast."
Well, if it didn't happen exactly like that, it was probably close. Those engineers accepted the challenge, raided the alphabet and number drawers and created the X3 M40i. (One of these days car makers will go back to actual names for their darlings. A boy can dream.)
The Basics
Welcome to the latest redesign in the Ultimate Driving Machine stable. The X3 M40i crossover vehicle that yearns to be a sports sedan, all the way down to the remarkable snarling growl it gives off when the light turns green.
You get a variety of trim level choices, from the base model sDrive30i, the xDrive30i, and the golden child, the M. I was blessed to cruise around in the M for a week, mostly trying to stay out of trouble.
It comes with a 3.0-L M Performance TwinPower Turbo 6-cylinder with direct injectio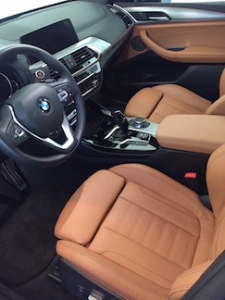 n. Whew, that's a lot just to say it's a jet. You will never be disappointed with the get-up-and-go, thanks to more than 350 horses that deliver a zero-to-60 time of about four and a half seconds.
I told you, it wants to cause trouble.
Those designers packaged all of this in a sharp, stylish body that will turn a few heads. It must be hard to make a crossover look considerably different from the rest of the crowd, but BMW has done an admirable job. It's a gorgeous vehicle.
The Inside
For a moment let's ignore the interior color scheme, which reminded me of the hideous orange of an Italian sports car I drove a few years ago. No, my BMW wasn't exactly orange. In fact, they call it "cognac," which is clever. But not very attractive to me or to Gretchen.
Otherwise the interior is wonderful, with outstanding materials and a layout that just works. Well, other than constantly banging my left knee against the door handle for some reason.
The firm seats were comfortable, with a Premium Package option of heated seats in both the front and back. Visibility was great, with good blindspot viewing.
Storage was decent up front, and your space in the way-back is embellished by rear seats that fold all the way. I used that space a couple of times and loved the ease of folding and unfolding that back row.
The Drive
As mentioned, it wil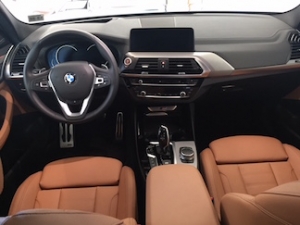 l jump off the starting line. But a car, especially a BMW, must do more than that. Otherwise it's just another muscle car.
I think a lot of people will be expecting the traditional silky-smooth BMW ride, and it's close. But remember that executive's order in the boardroom. This crossover was tasked with producing something similar to a sports car in the handling department, so just be aware.
Regardless, it's still a smooth, comfortable ride, if a bit stiffer than you'd expect. And some people will relish that.
The Tech
The infotainment screen is large and shows well, the heads-up display is terrific, and you'll get the usual connectivity. Apple CarPlay compatibility is built in, although I'm told Android Auto is still waiting for an invitation.
You get three-zone climate control, LED headlights, and – with the Executive Package – one of the better surround-view displays I've seen. It almost makes you want to put the car in reverse just to watch.
Lots of raves for the gesture-based commands, which is something you need to play with to appreciate.
The Bottom Line
I like the marriage of sporty, playful BMW with smart, convenient crossover BMW. Price-wise the vehicle holds up well when compared with some of the other players in this game. My option-loaded test car sets up at about $65k.
You'll appreciate the ride, the interior toys, and the aggressive growl of that twin turbo engine. BMW has produced another winner for this segment, an enjoyable ride for you when either hauling stuff or simply out for a night on the town.
It's a functional, beautiful machine. Even with the cognac.
The Details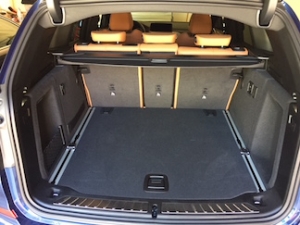 2018 BMW X3 M40i
3.5-L V6, twin-turbo
8-Speed sport automatic transmission with paddle shifters
Standard all-wheel-drive
Mileage: 20/27/23 combined
MSRP: $54,300
As tested: $65,920