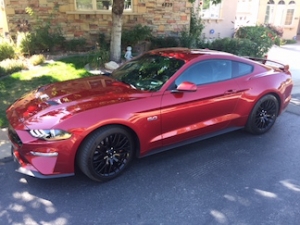 I'd driven the '18 Mustang GT coupe for about three days when Gretchen asked me what I thought. With a chuckle I admitted: "You mean once I'm able to fold myself into the car?"
I have to laugh about it. There was a time a few years ago – okay, many years ago – when I could look just as cool as anyone climbing into or out of a low-to-the-ground sports car. Now I'm told I make unnatural sounds going either direction. I can't confirm that; I'm too busy orchestrating my back and limbs to hear anything.
Now, once inside, however – well, that's a different story. Since the first day they rolled off the assembly line in 1964 Mustangs have been designed for one reason, and it's not to impress anyone with luxury or comfort. They're built for fun. And if you opt for the stick instead of automatic transmission, the fun factor goes up a notch. Or two.
The Basics
If you really need to, you can choose the base 2.3-L turbo engine for your Mustang. Nobody will snicker at you, and you'll still have the aforementioned fun.
But let's get real. Spend a few more bucks (about what you'd pay for a competitive Camaro from Chevrolet) and step up to the car I spent the week with. It's a 5.0-L beast, which cranks out more than 450 horsepower.
You also have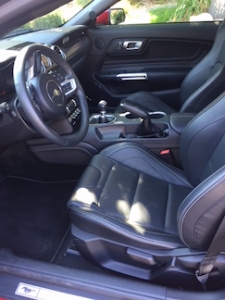 multiple packages and options to sift through. I drove the GT, a package that installs all sorts of performance extras, from brakes to springs to the chassis itself.
If that's not enough, there are even more choices you can make to spiff your ride. Then it comes down to your decision between manual and automatic.
For me it was the stick, which always leaves me torn. It certainly provides an adrenaline rush, and there are performance perks. But I won't deny that I prefer having my hands free – no, not texting. Let's just say having an extra hand comes in, um, handy.
Regardless, I didn't get a chance to experience the automatic transmission, which might be going a bit overboard with 10 speeds. Ten? Really? Disclaimer: Other reviews have been less than enthusiastic about the automatic, using terms such as "jerky."
The Inside
I always shake my head (I'm sorry, SMH) when I peer into the "back seat" of muscle cars. No adult can fit back there, and in this case I have to wonder if even little tykes could manage.
If you're wondering why car makers even bother, I'm told by some folks in the know that it's purely for insurance reasons. Having two rows of seats somehow indicates it's not a drag racing machine. Well, it'll comfortably hold some groceries, a gym bag, or your dog, if that's important to you.
I enjoyed the mixture of leather-trimmed seats and brushed metal. It does provide some nice eye-appeal, and adds perhaps a touch of class. The gauges are pure muscle car, with two of them planted in the middle of the dash to never let you forget you're in a Mustang.
I'd give the seats a 5 on comfort – other than that issue of climbing in and out. Blind spot visibility was lower.
The Drive
So let's start with this: There's a speed bump right at the entrance to my neighborhoo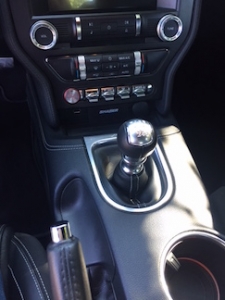 d, and the Mustang absolutely hates it. Between the car's low clearance and the low tolerance for anything taller than a pile of leaves, be prepared to creep a few times.
Ah, but once you get up to speed you'll appreciate some of the changes Ford engineered into the 'Stang. Steering, cornering, and overall handling have been improved. Car enthusiasts – and Mustang fans especially – like the refreshing grab of the road.
To be truthful, I sometimes felt like the car was impatient with me. The Mustang has that cliched need for speed, and perhaps it did a few eye-rolls with me at the controls. If you're a lead foot, slip into the manual-transmission version of the GT and get it all out of your system.
The Tech
Kudos to Ford for shipping the Mustang with a fairly generous complement of standard features. Things like ambient lighting, smart charging USB ports, intelligent access with push-button start are nice.
Throw in the reverse steering system and a nice-looking rearview camera and you'll nod.
My GT coupe included a few options packages, including the Safe & Smart Package (a little cutesy on the name, but still). That provides adaptive cruise control and cross-traffic alert.
The GT Performance Package is designed to enhance the driving experience rather than the interior sensation.
I liked the dual USB slots. Most cars keep them tucked into the storage compartment between the front seats (and the Mustang has one there, too). But the second is accessed conveniently out of the dash.
The Bottom Line
The biggest take-away memory of my week with the Mustang was my sensitivity to the incredible snarl of the start-up. On weekdays I leave my house at about 4:30 in the morning, and on the first day I visibly glanced around to see if neighbors were shaking a fist at me through their windows. It's that loud.
On the second day I kept the garage door closed while I fired up the monster, but that only created an echo chamber that may have blasted the 'hood even more.
For many people this is no problem whatsoever. They buy the car for the show-off factor anyway.
Trunk space is relatively generous, and storage up front is average.
I liked the overall look of the car's exterior. Some have complained about the redesign, but let me just say this: When I was a young man I once owned an '83 Mustang. All you have to do is an image search of that car – and look for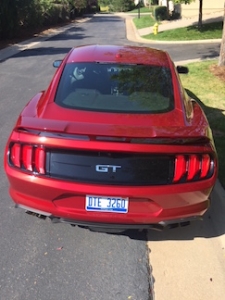 the two-toned brown one – to appreciate what a gift this '18 version is to muscle car freaks.
The Details
2018 Ford Mustang GT Coupe Premium
5.0-L V8
Manual 6-speed (10-speed automatic is available)
Mileage: 15/25/18 combined
Base MSRP: $39,095
Price as tested: $53,160