Quick,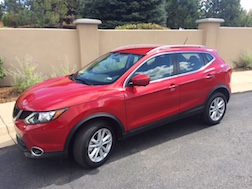 what's the bestselling car in Nissan's stable? If you'd asked me yesterday (before I cheated and looked) I'd have guessed either the Maxima or the Altima. Maybe the Sentra.
Nope. The Altima and Maxima have been around – and quite popular – since the early 80s, but neither of them stands up to the sales figures for the Rogue, which is barely ten years old.
The Rogue's little brother, the Rogue Sport, is practically a baby, introduced in '17. After a week behind the wheel I can tell you it's a great addition to the family.
The Basics
I like Nissan's strategy of taking its big-seller and crafting a smaller, sportier version for a younger market. It's not designed to be a racehorse – and it's certainly not – but the Rogue Sport provides a good alternative for people searching for a compact/crossover SUV.
There are three trim levels to choose from, the S, SV, and SL (I drove the SV), and all three can be found with either front-wheel-drive or intuitive all-wheel-drive.
Few changes from the inaugural Sport show up in the '18, and those consist mainly of shifts within the optional packages. So essentially it's the same vehicle, and that's cool. Give Nissan another year or so and I'm sure they'll crank up some redesigns.
You will, however, be treated to a pretty good collection of safety features in what Nissan calls their Safety Shield technologies. That includes pedestrian detection, blind-spot warning, rear cross-traffic alert, and some lane-departure features.
Top that off with forward collision warning that spurs automatic braking. Bound to cut down on some bodyshop business.
The Inside
This is ind
eed a small crossover/SUV, and yet I never once felt cramped. The roominess up front provides ease at entry and exit – and this came one week after I'd reviewed a tiny sports car that truly tested my flexibility. The Rogue Sport was welcome relief.
Rear seat passengers will also have some freedom, although, as with almost all smaller crossovers, legroom back there is slightly compromised. Headroom is generous. Those rear seats are set for a 60/40 split fold down.
All of the seats are surprisingly comfortable, although word has it that the base trim model S leaves something to be desired.
Materials are what you'd expect for an entry-level SUV, but I liked the look. The dashboard controls are intuitive and (thankfully) not overly-reliant on screen controls. You get a good mixture of screen and basic knobs, which most of us appreciate for its ease. I wasn't crazy about the steering wheel controls, but I often find those distracting anyway.
The Rogue Sport has great visibility out its large windows, so you'll feel very safe switching lanes.
Then we get to the storage, which is a key selling point here and something people definitely look for in this segment. You'll find ample storage in the way-back, especially when the rear seats fold down flat. In fact, fold those seats and the rear cargo area expands to more than 60 cubic feet.
Storage up front in the cabin is adequate.
The Drive
I've already mentioned that this is not a racehorse, and I wasn't kidding. The Sport's zero-to-60 times are on a par with molasses, but I can't believe anyone is buying this small SUV to impress the guy over there in the Corvette.
It's really what you'd expect from a subcompact SUV that's powered by a 2.0-liter, 4-cylinder engine with about 140 horsepower.
But the driv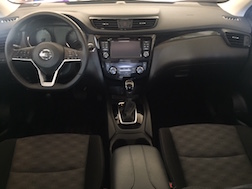 e itself is fine. It's basically a smooth ride unless you encounter a really dimpled road, but even then the vehicle holds up well. Steering is acceptable if a bit bland, and braking is good.
I liked the feel of the Rogue Sport's continuously variable automatic transmission. It shifts with a clean, smooth feel, and the car's handling befits its small size. You may be saving money by scaling down to the Rogue's little sibling, but the ride doesn't come across as cheap at all. I enjoyed my week-long drive.
The Tech
Let me just get this off my chest first: I dislike cars that lock me in. I'm a big boy and I can lock the door when I feel like it. Many cars do this and it's one of those irritating nanny-ish things that car makers feel compelled to add. Sure, it often can be overridden, but still. At least a dozen times during the week I went to get out of the car and uselessly pulled on the door handle, only to be thwarted at my attempt to exit. Then you have to find the unlock button in order to escape.
Car makers: Stop doing this. Okay, rant over.
The Rogue Sport has an impressive array of standard tech features, including the safety pieces mentioned above.
The surround-view camera is well done, and not something you often find at this price level. I liked the mixture of screen controls with analog knobs, which allows for quick changes.
(Side note: Just before I turned in the Rogue Sport, a friend of mine was regaling me with stories of his wife's new high-end luxury car. He kept coming back to how she'd already been to the dealership twice just to have them explain how to control all of the gadgets and basic functions with the mouse/touchscreen. She's not alone. Sometimes car engineers are too tricky for their own good. Or ours.)
Few subcompact SUVs have shaken hands with Apple CarPlay or Android Auto, so don't look for that here. You can, however, opt for Nissan's voice control system.
The Bottom Line
I wasn't expecting to be so impressed with this little guy, but the Rogue Sport was a fun drive. No, it didn't blow your ha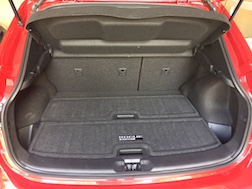 ir back when the light turned green, but overall I found it to be a solid performer for its size and price point.
Mileage comes in at about 27 combined, a touch higher if you go with front-wheel drive.
Honda and Mazda offer strong competition, but if you're looking to keep your purchase well below the $30k mark, the Nissan Rogue Sport could be a serious contender for you.
The Details
2018 Nissan Rogue Sport
2.0-L 4-cylinder
Xtronic CVT automatic transmission
Front-wheel-drive/all-wheel-drive available
Mileage (SV trim): 24/30/27 combined for all-wheel-drive
MSRP: $25,090
As tested: $28,760