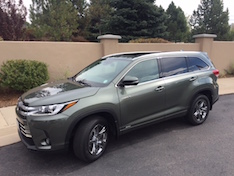 Alumina jade metallic. You could've given me 10,000 guesses regarding the color of the new Toyota Highlander Hybrid I drove in early October, and I wouldn't have come up with that.
But suddenly I'm a fan of alumina jade metallic. Kinda classy in its yellowish-green sheen, and the kind of hue that helps you find your car in the parking lot amongst all the white, silver, and black options.
Oh, and the vehicle itself kicked ass.
The Basics
C'mon, Toyota has been out front with hybrid technology ever since they took a chance with a funny-looking thing called a Prius in 1997 (although it didn't hit US shores until three years later).
Now, twenty years in, it's hard to argue that they're not the leader in this category. And once their hybrid technology began seeping into other segments it became a game changer.
The Highlander, already a popular option in the mid-size SUV/crossover category, gives you more to love when that gas mileage creeps up near the 30-mpg range. On top of that it's a quiet, comfortable ride that (on paper at least) seats seven with the second-row captain's chairs in the model I drove. The third row, in all honesty, isn't the most spacious, but the neighbor kids would fit.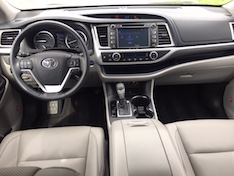 You get four trim levels to choose from, beginning with the LE base model and working up to the Limited Platinum, which I played around in for a week. All of the trims are powered by a 3.5-L V6 to go along with three electric motors.
The Inside
You'll laugh, but Gretchen and I agreed our favorite feature is the long shelf. Yeah, the Highlander has a shelf that stretches across a good portion of the front dash, and with society's obsession with gadgets and, well, stuff, every car maker should seriously consider adding this feature. We loaded it with phones, a tablet, wallet, some extra keys, mints, and a few other things.
The rest of the storage up front is equally nice. The cavernous center-storage bin could practically hold a small child. But don't do that.
Cargo space in the way back checks in about average for the segment.
Toyota scores high marks for seat comfort, too. Plus, they come in heated leather starting in the mid-trim levels.
I mentioned the captain's chairs in the second row, which I'd recommend over the bench. Not only is it practical but I think it simply looks cooler. Besides, if you have two kids it's always a good idea to separate them in that back seat, right?
Visibility is terrific, and the panoramic sunroof in my test car was cool. Think of it as an extended version of the traditional sunroof. Again, it's a feature I expect m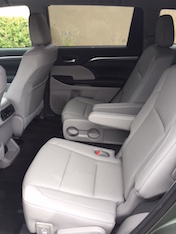 ore and more SUVs and crossovers to begin making standard.
The Drive
In a word: superb. With its combined gas/electric system the Highlander generates about 300 horsepower, more than enough to give you a solid ride.
Acceleration is quite good — and I'm finding that the old "for a hybrid" postscript isn't even necessary anymore. Sure, the non-hybrid version of the Highlander will scoot along a touch faster off the line, but not enough to crow about.
Steering and braking are also good, providing a suitable shot of confidence for the driver. I love the whisper-quiet sensation behind the wheel, too.
I'm sure most owners don't take their Highlander off-roading, but with its good clearance it's certainly possible.
The Tech
I like the infotainment screen, an easily-readable and more-than-functional 8-inch touchscreen. I'll go farther than that and say I love the fact that many of the functions are still old-school controls, which makes everything much easier for the driver. Fewer distractions trying to figure out mouse control, etc.
You get a nice backup camera and the suite of Toyota safety toys — what's often known as "accident avoidance technology" — is impressive.
I must note that we had some difficulty connecting the Bluetooth, but couldn't figure out if it was a flaw in the system or we were just exceptionally dense that particular afternoon. Eventually it connected.
There are multiple USB ports for both front and second-row passengers.
The Bottom Line
The '18 Toyota Highlander continues the tradition of a quality, satisfying mid-size SUV. The vehicle is roomy and comfortable, the drive is superior, and storage space is good.
Even the exterior lines look attractive with this generation. Toyota has done a nice job of slotting this SUV into a sweet spot for buyers: big enough to haul around the family and assorted gear without being obnoxiously large. 

And they've done it with an upscale feel that combines excellent materials and Toyota's always-reliable craftsmanship.
With the mileage boost it's a good idea to consider the hybrid. I personally own a hybrid and can't imagine ever going back.
The Highlander — in all its alumina jade metallic glory — gets two thumbs up from Gretchen and me. Loved it.
The Details
2018 Toyo
ta Highlander Hybrid Limited-Platinum
3.5-L V6 with three electric motors (Toyota hybrid system)
All-wheel-drive
Mileage (Limited-Platinum): 29/27/28 combined
MSRP: $48,280
As tested: $49,913
Reviewed by Dom Testa
Vehicle provided by manufacturer