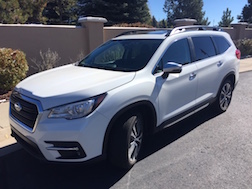 Subaru, already a big hit in Colorado, is back in the SUV game after quietly giving up on the disappointing Tribeca a few years ago. The designers went off to a room, licked their wounds, then rolled up their sleeves and forged an all-new midsize SUV with a third row that competes with the likes of the Honda Pilot or the Toyota Highlander (which I reviewed recently here).
And voila! The Subie factory in Indiana is now rolling out a respectable — and potentially successful — new kid on the block. With its capacity to hold 7 or 8 eight passengers (depending upon seat choices) and Subaru's devotion to all-wheel-drive, the Ascent looks like it could make some noise in the SUV world.
The Basics
The Ascent comes in four trim levels, starting with the aptly-named Base and working up through the Premium, Limited, and Touring. For one week I tooled around in the Touring edition.
Each of these versions comes with a 2.4-liter direct injection turbocharged engine, paired with continuously variable transmission. The power plant puts out 260 horsepower.
While many of its competitors sport a V6, the Ascent's 4-cylinder engine gets the job done. I never felt like I was wanting for oomph, and one side effect is basically a quieter ride.
If you're in Colorado and demand an SUV that can truly leave the pavement, you'll find more than 8 inches of ground clearance here.
The Inside
As mentioned, you get a choice of traditional bench seat for the second row or captain's chairs. Gretchen and I had the latter and liked that setup quite a bit. Sure, it reduces the passenger potential from 8 to 7, but really, how often are you hauling 8 butts around town? That easy access to the back between the captain's chairs is super convenient.
Having said that, let's not kid ourselves that NBA players can ride in the wayback. But if you have kids, they'll comfortably cruise around back there.
For those of us in the front seats, things are quite good. Plenty of room, comfortable seats (the upper trim levels introduce leather to the line) and loads of storage space. In fact, we really dig the dual shelf space in the Ascent. It's a feature that has popped up in a few places recently, and this Subaru loves the idea of the shelf. You will, too, as a place to store your phone or maybe even your fries.
But I have to chuckle over one particular interior feature. If you buy or lease the Ascent you'll be driving around with an SUV that sports 19 cup and bottle holders. Yes, 19. For 7 or 8 passengers. That is so America in the 21st century.
As is the amount of access to power for our gadgets. You'll never have anyone fighting over a USB or power plug in this vehicle. In upper trims there's even a regular homestyle outlet.
And if the rugrats in the back do start squabbling, the handy mirror that unfolds from the sunglass holder allows you to put the stink-eye on them. Pretty cool.
Storage capacity in the back is good, with up to 86 cubic feet when you lower the 2nd and 3rd row seats.
The Drive
As mentioned, I never felt shortchanged for power, including any highway merge. The torque produced by the 4-cylinder is enough to overcome any fears you might have in that area.
Given that this is a newcomer of sorts to the midsize SUV arena, we shouldn't be surprised that the handling isn't all-world yet. I felt like the ride was smooth and comfortable, but the Ascent does come across as slightly awkward in some situations. I'll put an asterisk here, however, to note that it wasn't bad — just not as sporty as some of the competitors I've driven.
It's not only early in the Ascent game, but it's also the largest vehicle Subaru has ever produced. We can't expect it to handle turns like its smaller brethren, the Outback or Forester. I would be surprised if the Subie engineers didn't focus a bit more on this in subsequent model years. For now, let's call it average.
The Tech
Plenty of driver-assist features as well as traditional safety features can be found here. Depending on the trim level you select, you'll find a host of standard features that are impressive (blind spot detection, lane change assist, rear cross traffic alert, etc.).
In the Touring edition the front-view monitor was a nice complement to the typical rear-view camera. The 8-inch high-res touchscreen was easy to use and fairly intuitive. Apple CarPlay and Android Auto are standard (and demanded by many these days).
Subaru's Starlink service offers a remote engine start and (this is cool) some firmware updates that download over the air. In-car Wifi supplies access to the web.
The Bottom Line
This was a pleasant week of driving. I was surprised when I came around the corner and found such a large Subaru parked in my driveway. But if you're looking for a family-friendly SUV that not only accommodates your crew but provides a solid ride and a nice suite of safety features, this one is worth a test drive.
The Det
ails

2019 Subaru Ascent Touring
2.4-L 4-cylinder engine with CVT
All-wheel-drive standard
Mileage (Touring trim): 20/26/22 combined
MSRP: $44,695
As tested: $45,670