The first time I remember hearing about the USS Indianapolis was watching the scene in the movie Jaws where the guys are comparing scars and stories. Captain Quint sports a tattoo of the Indy, and proceeds to tell an abbreviated version of one of the most horrific real-life episodes in naval history.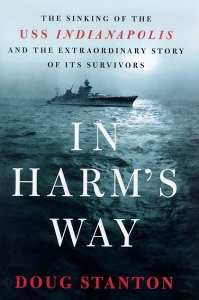 Fast-forward to this summer when I devoured a book about that same topic in about four days. It's called In Harm's Way, and it's downright chilling.
To condense the story for this post, the USS Indianapolis was the American warship that delivered the first atomic bomb to an island in the Philippine Sea. A few days later the ship was torpedoed by a Japanese submarine and sank quickly.
Almost 1200 men went into the shark-infested ocean, with only a few in lifeboats. The rest bobbed along wearing flimsy life jackets. But worst of all, nobody in naval command knew they'd been sunk. They were alone in the middle of a treacherous ocean with no help on the way.
Doug Stanton does a terrific job of setting the scene, describing the misery and fear these sailors experienced as they watched dehydration, sun, and sharks begin to take down the crew.
I won't give away anything else. Just know that this was one of my favorite books of the year. It's a riveting, dramatic telling, and the fact that it's all true only adds to the reader's anxiety.
Pick up In Harm's Way at your nearest Tattered Cover Book Store. Mention Dom's Book Club and they'll knock 20% off the price of this title.
Happy reading!
Dom