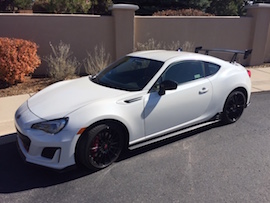 It's not very often that you find two big players in the automotive world working together to create a car. But that's exactly what happened when Toyota partnered with Subaru to develop a sporty little number called the 86 under the Toyota badge and the BRZ when Subaru's name is on the back.
The cars are not identical, but they're pretty close. Some even refer to them as "the twins." Subie upped the game a bit when they introduced the tS trim level for their BRZ. Before we get completely lost in the alphabet soup of car makers, let's explain:
The tS is short for "tuned by STI."
STI is the abbreviation for Subaru Tecnica International, the motorsports division of Subaru. It was formed in the late 80s to spearhead the company's pursuit of road racing success.
And the BRZ? That's shorthand for Boxer engine, Rear-wheel drive, and Z for the zenith.
Whew. Let's move on.

The Basics
First, I need to point out that this is truly a limited-edition car. Subaru planned for only 500 of the tS models for 2018, and somehow I was able to get my mitts on one of them and get it back to Subaru in one piece.
If you're unable to grab one of those 500, you'll find two other trim levels available: the Premium and the Limited. All of them come with a 2.0-liter, 4-cylinder engine and rear-wheel drive.
And, of course, there's the requisite spoiler on the back. Oh, sorry – the "wing" on the back. Made from carbon fiber, no less. The car already looks low to the ground, and the wing only adds to the snugness as you maneuver through turns.

The Inside
Well, for starters there's not much of an inside. This is a small car, which might technically have a backseat but let's be real. It's a two-seater with a place in the back for your gym bag a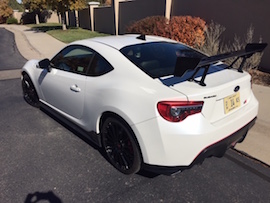 nd groceries.
But that's fine, we know what we're getting when we race off the lot. Getting in isn't as tough as some other small sports car, but as a 6-footer I couldn't help but look like a bit of an oaf folding myself in. (I recently saw the movie First Man, and laughingly told Gretchen that getting into the car reminded me of the early Mercury astronauts climbing into their space capsules.)
Once inside you'll discover a compact yet comfortable seating arrangement for the driver and front passenger. The seats felt good and everything you'd need to grab for was well-placed and convenient.
Storage up front is at a premium, with a small center console space and an odd little compartment on the dash that wasn't big enough to hold much. I tried to figure out what it would best be used for, and finally found I could just barely stash my garage door opener in it.
Trunk space is also limited, so don't plan on taking four big bags to the airport in the BRZ.

The Drive
This is where the BRZ has been able to shine over the years. For the price, you're getting a fun, sporty little machine.
The engineers wanted a car that would do a good job of gripping the road and whipping you through the turns, and they got it.
We'll call it adequate in the acceleration department, romping from 0 to 60 in a little under 7 seconds. Given the engine that's not bad, but the BRZ will come up a tad short against some competitors.
Critics for years have begged Subaru to beef up that engine, but for now it's status quo.
I give it good marks, however, with steering and overall handling. Can't deny it's a cool ride.
As noted, things are laid out well in the cockpit. The standard touchscreen measures about 6.3 inches, but step up in trim level and that increases to 7 inches.
It's relatively intuitive and easy to use, which these days is not a given. (I'm looking at you, luxury car makers.) You can get dual climate control, something the twin at Toyota doesn't offer.
And kudos to Subaru for adding Apple CarPlay and Android Auto. Ask anyone who has discovered these tech additions and you'll find them not only reluctant to go back but willing to fight anyone who tries to take them away.

The Bottom Line
All right, so plenty of people have moaned about the lack of power in the BRZ. Sure, it handles great and you can tell it wants to scorch everyone else on the highway. It's like the little engine that could – it thinks it can.
But it can't. Not yet.
That doesn't take away the fact that you're getting a fun, sporty little number that comes in below the critical $35k price point. That makes the BRZ not only a low-slung good time on wheels, but a pretty good value, too.

The Details
2018 Subaru BRZ t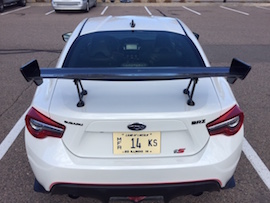 S
2-L, 4-cylinder engine
Rear-wheel-drive
Mileage: 20/27/23 combined
MSRP: $33,495
As tested: $34,355
Reviewed by Dom Testa
Car provided by manufacturer