Subcompact crossover vehicles are becoming quite the rage, because they offer the kind of utility/cargo space that on-the-go urbanites are looking for, without the gargantuan size. Basically, they'll dart around town and they're easy to park.
The Toyota C-HR was originally going to be produced under the Scion brand until that division was shut down.
It provides a fun, sporty look with capable handling and good mileage. What it doesn't provide is peppy acceleration, nor all-wheel-drive — which surprised me. Coloradoans will have to make do with front-wheel-drive only.
(For what it's worth, I drove to the radio station one day in the snow and the C-HR handled like a champ.)
The Basics
The C-HR (which stands for Compact High Rider) is available this year in three trim levels, after Toyota added the upper-tier Limited model for this year. The base unit is the LE, followed by the XLE (which I drove).
All three come with a standard 2.0-liter, 4 cylinder engine which puts out 144 horsepower. The exterior styling is one of the things current owners seem to point out often, with its somewhat-edgy design and charismatic stance.
One of those catchy gimmicks is a rear-door handle that's up high, near the roof line. I never could decide if I liked that or not, but at least it's interesting.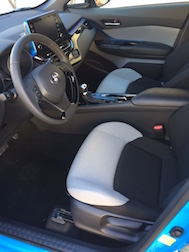 You'll find a decent stock of standard features regardless of the trim level, but you will have to upgrade to the Limited if you want leather upholstery or heated front seats.
My XLE sports 18-inch alloy wheels and a nice slew of Toyota safety systems, including power-folding mirrors and keyless ignition.
The Interior
You'll get some good with a little bit of not-so-good. I found the front seats to be pretty comfortable, even with the somewhat-limited choices of seat adjustments. Riders in the back will find a decent amount of room, especially considering this is a subcompact crossover.
Those passengers in the back will have to make do with limited visibility, too, as the roof pillars require you to lean forward in order to get a good glimpse of the passing world. Or maybe your passengers would simply appreciate the privacy.
I like the layout of the dash and the displays, which all seemed easy to read and to work with. Visibility for the driver and front passenger are quite good.
Let's call the upfront storage space adequate. Again, it's a smaller vehicle so we shouldn't expect cavernous bins. Up front you get a traditional round cupholder and another with that hip, new square holder that accommodates awkward containers. The center armrest bin is good-sized.
Lower the rear seats and the overall storage space is still a bit below that of the competition. One person told me it seemed more like a large hatchback than a traditional crossover.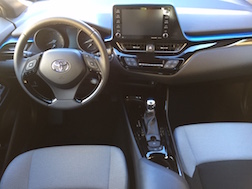 However, in terms of anecdotal information, I purchased a 9-foot tube of material and was able to feed the box through the back, between the front seats, and up on the dash. It rode just fine, and I can't imagine you'll be transporting too many things longer than 9 feet.
As for materials, I'll give the C-HR a B+. Again, better than I expected for a car priced in the low $20s.
The Drive
Here's where Toyota, I believe, will turn their attention next. The C-HR, for all its snazzy looks and functionality, is just too pokey.
You can forget about the 0-60 speeds, which practically can be timed with a calendar. It's just not a fast car. But that's also not important to many people who just want good, comfortable transportation and don't need to be the first one to the party.
Given that disclaimer, however, I can add that when it does get up to speed, the ride is smooth and comfortable. I noted some fairly high cabin noise, but nothing too distracting.
Steering and braking are good, if not great. I'll rate the overall ride at a C, a grade that was dinged primarily because of that wimpy acceleration.
The Tech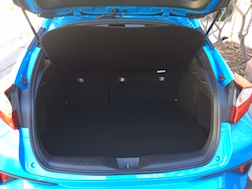 Depending on your trim level, the C-HR delivers a nice array of tech features. I thought the infotainment screen was easy to navigate and basically intuitive. Sometimes I need to skim the owner's manual of these review cars, but not this time.
Toyota has added Apple CarPlay to the '19, although as of this review they haven't budged on their stance to not include Android Auto. According to some at Toyota the decision is based on "customer privacy concerns."
They do point out, however, that Android users can be quite happy with the Toyota Entune system and app suite.
The Bottom Line
As noted, the price point of the C-HR makes this a subcompact crossover that will find lots of interested buyers. Toyota's reputation for quality and reliability helps, too.
I'm willing to bet that we won't have to wait long for a boost in engine performance and the addition of all-wheel-drive.
But for now, with a price tag below $25k the C-HR is a fun, attractive, and capable crossover.
2019 Toyota C-HR XLE
2-L, 4-cylinder engine
Front-wheel-drive
Mileage: 27/31/29 combined
MSRP: $22,980
As tested: $24,710
Reviewed by Dom Testa
Car provided by manufacturer